<![if !vml]>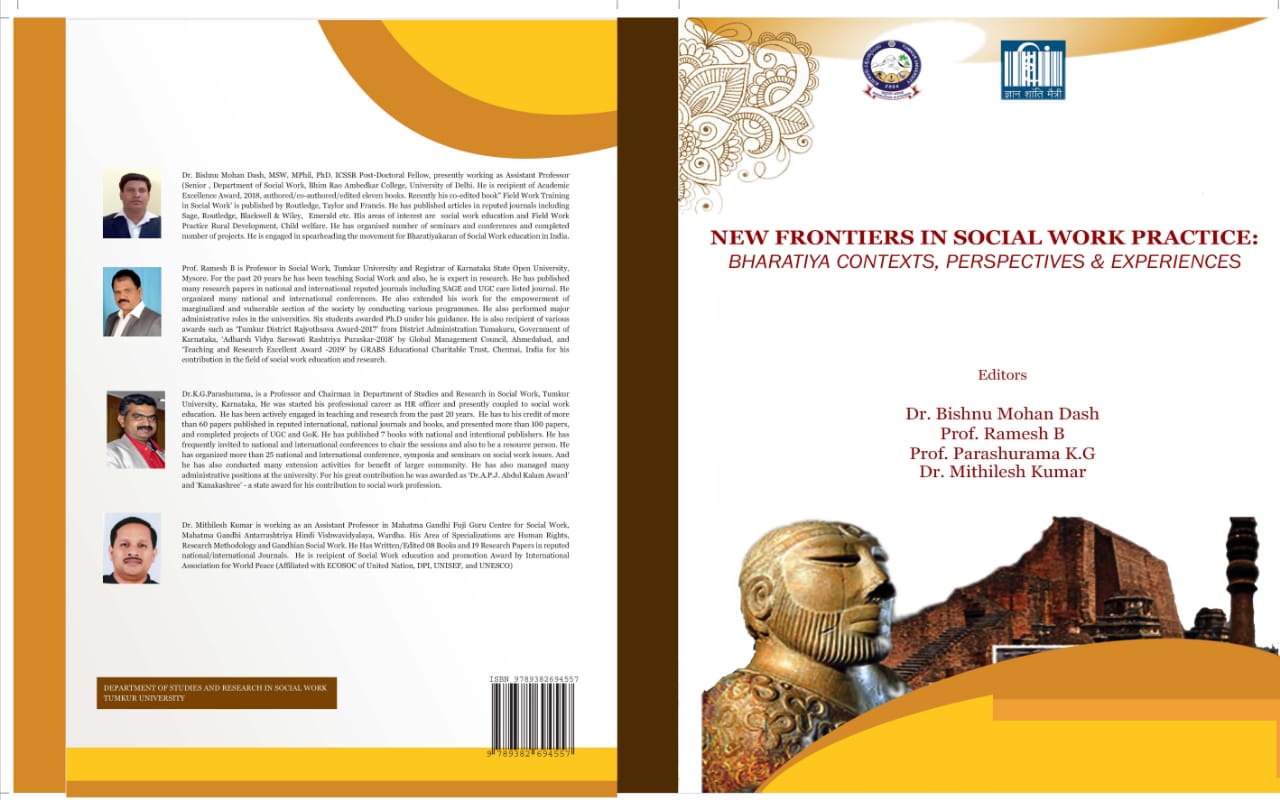 <![endif]>

New Frontiers in Social Work Practice Bharatiya Contexts, Perspectives and Experiences
Edited by
Dr. Bishnu Mohan Dash
Prof. Ramesh B
Prof. Parashurma K.G
Dr. Mithilesh Kumar
Tumkur University
2019
New Frontiers in Social Work Practice Bharatiya Contexts, Perspectives and Experiences
Edited by
Dr. Bishnu Mohan Dash
Prof. Ramesh B
Prof. Parashurma K.G
Dr. Mithilesh Kumar
Published by
The Registrar
Tumkur University
Vishwavidyanilya Karyalaya
B.H.Road, Tumakuru – 572103
© All rights reserved
The Registrar
Tumkur University
Vishwavidyanilya Karyalaya
B.H.Road, Tumakuru – 572103
ISBN: 978-938-269-45-57
First Impression: 2019
CONTENT
Preface

Forward

<![if !supportLists]>1. <![endif]>

Importance of Indic Values for Bharatiyakaran/ Indianisation of Social Work Education

Dr. Bishnu Mohan Dash

01

<![if !supportLists]>2. <![endif]>

Arya samaj and social emancipation in India

Sandeep Sen & Dr. M. Nagalingam

10

<![if !supportLists]>3. <![endif]>

Indian Culture and World View Of Social Work

Prof. Prasanta Kumar Ghosh & Dr. Bishnu Mohan Dash

16

<![if !supportLists]>4. <![endif]>

Integral Humanism and Social Work

Prof. Ranjana Sehgal

36

<![if !supportLists]>5. <![endif]>

Social Work Roots in Asoka's Regime

Dr. Lokesha M.U & Saravana K

53

<![if !supportLists]>6. <![endif]>

Perspectives of Managing the Human Distinctiveness Through Edifying Bharatiya Narratives

Dr.Venkatesha Murthy.S

60

<![if !supportLists]>7. <![endif]>

Sevabharathi As the Founding Stone of Indic Social Work: An Archetype from Kerala

Raneesh C & Dr. Mohan A.K

72

<![if !supportLists]>8. <![endif]>

Relevance of Sri Aurobindo In Social Work

Mithilesh Kumar & Rajan Prakash

83

<![if !supportLists]>9. <![endif]>

Women's Welfare and Development: Challenges and Indigenous Practices

Pamela Singla

98
Preface
We inherit a civilization which is historically known for its services to the poor, destitute and disadvantaged sections of society. We have had our own ways of working 'with' and 'for' the people in need of material and non-material assistance and support. Prior to the emergence of industrialization and urbanization, there exists an informal helping system by the churches (in West) and family system (in India). While 'family-system' mechanism for 'helping others' could not evolve in to any formal organized mode of service system in India, the churches have greatly influenced the emergence of  Charity Organization Society in the mid-19th century in Western and European societies, and that later conceived the idea of 'social work' in its present form in UK and USA. Very recently John E Spero (2014), a senior research scholar at Columbia University, USA, narrated that charitable giving is known as an effort to alleviate human suffering and support the poor and needy with food, shelter, and healthcare; and philanthropic giving promotes social change and deals with the root causes of social evils through addressing inequalities of wealth, improving health, and spurring education and research. Perhaps that could be one of the important factors that apparently de-contextualize 'imported social work' to India society and its culture. Traditionally philanthropy and volunteerism, guided by our ancient wisdom and philosophy, have been the guiding force behind all social service initiatives in India and so the 'clinical model' of social intervention in the pursuit of 'social work' is not well accepted in our society.
The initiatives for 'Bharatiyakaran of Social Work' or its 'indigenisation' is very much contemporary and well justified. However, we should not confine our thought processes and efforts only to raise voice against its 'foreign form', but engage ourselves in collaborative, comprehensive and consistent approaches to evolve contextualised theoretical knowledge base and intervention strategies. In due process, we must take into considerations the views expressed by Prof. P.D. Kulkarni (in his article on 'the indigenous base of social work profession in India', published in IJSW); Shri Mukul Kanitkar, Secretary, Bharatiya Shikshan Mandal, Nagpur Dr. G R Banerjee, TISS, Mumbai; Prof. Pamela Singla, Delhi School of Social Work; and many other contemporary educators and experts. Also we need to consistently learn and consolidate the insights drawn through the recent events like (i) national conference on 'Indian Social Work: Scope and Challenges' (14–15 March 2018) jointly organised by Dr. Bhim Rao Ambedkar College (University of Delhi), Delhi and Mahatma Gandhi Antarrashtriya Hindi Vishwavidyalaya (MGAHV), Wardha, Maharashtra, in collaboration with Bharatiya Shikshan Mandal, Nagpur, Maharashtra, (ii) national workshop on 'Bharatiyakaran of Social Work Curriculum' (29–30 June 2018) organized by MGAHV, Wardha, Maharashtra, in collaboration with Bharatiya Shikshan Mandal, Nagpur, Maharashtra, (iii) national conference on 'New Frontiers in Social Work Practice : Bharatiya Contexts, Perspectives & Experiences' (15–16 December 2018) jointly organised by Tumkur University, Karnataka and MGAHV, Wardha, Maharashtra, in collaboration with Bharatiya Shikshan Mandal, Nagpur, Maharashtra, National Seminar on Nanaji Deshmukh: An epitome of Indian Social work organized in Indira Gandhi National Centre for Arts, New Delhi  and many other similar events. At this juncture our responsibilities and obligations are immense to maintain integrity with its international and universal perspectives, as well as to give it a shape and identity adaptable to our culture and requirements. When it fits into our 'Swadeshi, Swatantra and Swadrusti' perspectives, it can well re-establish its institutional form among other main stream academic disciplines and service professions.
The ideation of the conference theme and its successful execution deserves appreciation for setting the tone and creating a momentum towards indigenisation of social work education and practice in India. I'm happy to recognize the efforts made by the members of organizing committee, paper presenters and other delegates for its successful organization and contribution to learning from Indian perspectives.
Prof. Dr. Y.S. Siddegowda
Foreword
Mukul Kanitkar
Sh. Mukul Kanitkar is renowned independent Writer, Researcher, Thinker and Educational Reformer. He is the National Organising Secretary of BSM engaged in spearheading the movement of popularizing Bharatiya Model of education.
Bharatiya texts contain immense knowledge and philosophies related to social sciences and scientific knowledge. Works of many of our sages like Bruhat Samhita of Varahamihir, Charak Samhita of sage Charaka and also Vedas, Upanishadas etc. are perennial sources of knowledge. But having been victim of Mughal invasion and later British and Pseudo intellectuals, these knowledge treasures have vanished, or deliberately destroyed and western knowledge has been advertised as a boon for the Bharatiya society. Had it been the case, our beautiful nation would not have been suffering from societal deterioration.
But many intellectuals and social thinkers have come forward advocating introduction of Indic knowledge with the modern curriculum. Bharatiya Shikshan Mandal is a group of such individuals. Bharatiya Shikshan Mandal has started designing syllabus & curriculum in 43 different subjects for undergraduate and post-graduate students which are suitable to Bharatiya context based on Bharatiya knowledge system, rooted in the region, expression of Bharatiya culture.
With the advent of time, team of Bharatiya Shikshan Mandal has designed syllabus for BBA, MBA and other PG diploma courses in Management. The team has also contributed to designing the syllabus for the four-year integrated B.Ed. course.
The main motto behind the concept of introducing our own Indic knowledge is to create individuals who will give employment rather than being the job seeker. Syllabus of subjects like psychology when incorporated with the Indic knowledge becomes even more informational. A lot of work is being done in developing integrated syllabus of psychology.
It can be understood about the importance of incorporating Indic knowledge in psychology with the example of works by Patanjali. The way mind was understood in Bharat by Patanjali, Vashishth, all the rishis and the way it has been explained in that philosophy is unparallel. On the other hand, theories of Eric Berne or Thomas Harris, who initiated the transactional analysis, are very superficial. The veda rishis have done a lot of work on that and to deprive the students & the whole humanity of that knowledge treasure to understand how the mind works is a great fallacy. "Mana Eva Manushyaanaam Kaaranam Bandhamokshayoho" (Amritbindu Upanishad) – We are manushya (human beings) because of mana i.e. mind and if we don't understand mind properly, we cannot be humans. Even, man has come from mana. So, being human means knowing your mind and that beautiful science of mind was developed in this country. This was called as psychology and not just the pathology of the mind that starts with the vikaras of the mind. Bharatiya Manas Shastra started with the structure and functioning of mind. A lot of work has been done on Bharatiya psychology and an integrated course is framed, which includes western knowledge also.
Bharatiyakaran does not exclude anything. Even in Bharatiyakaran of social work, we are not neglecting the west or western paradigm. We are just challenging the over emphasis of the western paradigm with complete silence on the Bharatiya knowledge system. Hence, nobody should think that every western theory or paradigm have been excluded or rejected. In fact, exclusion is not the Bharatiya way of looking at knowledge. "Aano Bhadraha Kratavo Yantu Vishwataha" (Rigveda 1.89) says our vedas i.e. let the knowledge come from the whole world. The only qualification, the only condition is that it should be Bhadra – for the well-being of all. Thus, benevolent knowledge is welcome, destructive knowledge is not welcome. This whole movement of Bharatiyakaran, the whole exercise of building curriculum, syllabus, right from the primary to higher level is not against the west.
In the field of social work, as a reaction to Bharatiyakaran, a peculiar phenomenon is witnessed. Integrated syllabus prepared in the indigenous context has been taken as a challenge to their own structure by the established faculty. These nasty reactions are mostly been expressed without reading the actual content. They feel challenged and react in a way to corner the messenger without addressing the message. The next step is labelling. This has started in the academia of social work. It is bound to happen when leadership is challenged. But the challenge is not against anybody. We are not rejecting the western paradigm. In fact, if we reject western paradigm the department of social work will stop because professionally doing social work is not originally a Bharatiya concept.
With that reference, what kind of social workers, what kind of Professionals in the field of social work are needed in the context of this country? How can they be equipped? How can they be prepared to face the challenges that are present in the society today? That is Bharat and to understand that, we have to understand the theosophical background & cultural moorings. This is necessary because whatever social problem you see today, have not been created yesterday. Indeed, there is a long history, long philosophical background, a long cultural background. Hence, it cannot be understood through the prism of the west.
The latest example is of Sabarimala movement. As the Supreme Court was dealing with the issue from the western paradigm, they were looking at it from the perspective of the right of the women. In fact, this has nothing to do with the right of the women. The whole thing indeed should have to be looked from the Bharatiya perspective. Without relating it from the Bharatiya perspective, finding solution is impossible. That is why even the Supreme court order did not solve the problem. On the contrary, it generated more chaos. The problem is aggrieved because the government is not ready to deal with it sensitively by understanding the collective mind and emotions of the people.
This is a bigger challenge today. We are still looking at it. Question is not whether girls should go to the temple. The question is who will decide? Who has the right to frame the rules of temple worship? That is the context and without that context, the Supreme Court can never give acceptable & practical ruling on it. Western paradigm has created a greater problem, which was unnecessary and could have been avoided. There is a precedent in Maharashtra. It was avoided there. The same problem occurred for Shani Shingnapur. Shani mandir did not allow women to enter since the last two centuries. In the Supreme Court, Maharashtra government pleaded not to give any order. They allowed the trustees of the temple to take the decision. This is a practical Bharatiya way of solving the problem. Maharashtra Government sensitively discussed with the trustees and the villagers and brought them on board and now entry of women is allowed at Shani Mandir.
If the context is not understood, what kind of social work will be done? If the syllabus does not contain the Bharatiya cultural perspective, the Bharatiya vision of looking at society, which is totally different from what it is there in all over the world, one cannot become a good social worker. They will not be able to solve the problems of society. They will not be instrumental in creating a self-reliant society, which is the goal of ideal social order in Bharat.
We don't want a society dependent on anybody. We Bharatiya always created a society which was self-reliant, complete in itself. The whole village was a complete ecosystem. It was not mechanical but an organic system, just like our body – interdependent, interconnected, interrelated and integrated. In the same way, the society was created and that is a great science of ideal social order. It is more than social work, it is more than just social engineering. It is a complete science of socialization of humanity, which has evolved in this country. If you don't understand this science and go to society and say, I know everything about social work and I am going to solve your problem, the first thing that will happen – you will be rejected as a professional. The society will simply reject you because they don't understand your language.
You go and tell them about their rights. They are more concerned about their Duties because that is the Bharatiya culture handed over to them for generations. Bharatiya culture has taught them their own Dharma, the Dharma of the son to his father Putra Dharma. Dharma of the father to son Pitru dharma, the Dharma of the king Raja Dharma. Here dharma is not referring to religion such as Hindu, Muslim, Sikh, Isaai, but to your duty.
The whole society is interwoven with this sense of responsibility, sense of duty, sense of contribution – dayitva bodha. Dayitva means what I am giving to society. So, each one is thinking about what I am going to give to society. When we think in that manner we basically think in a holistic manner unlike west where they talk about what I can take from society. The west is talking in terms of rights. Rights from whom? Rights from the government! Thus, you make the government powerful by demanding your own right from the government. You entrust whole power into the government. That is why governments have become powerful. Government has total control on the society.
 Every student of social work must read the book 'Fatherless America' by Professor David Blankenhorn which contains a thorough research on American society. In 1992, President George H. W. Bush appointed Blankenhorn to serve on the 'National Commission on America's Urban Families'. The project was on rejuvenating the family structure, because they understood family is the crux of the whole society and that families are breaking like anything in America and in the whole of the west. They have sold their culture. They have sold their families to achieve economic growth. They achieved highest GDP in the world at the cost of their families, at the cost of their culture.
This was understood in the 90s in America when everywhere globalization was going on. They were concerned about socialization. Countries like Bharat underwent LPG – liberalization, privatization & globalization, started in 1991 with the WTO agreement. But at the same time, the west was doing introspection within itself, what is relevant to the society.  Hence, this professor Dr. David Blankenhorn was given the task to study the whole of American society. Taking surveys in all the 50 States of America, he came up with a comprehensive book in 1994. It was published by Harper Collins in October 1994. The name of the book explains the ailment of society in America today, the ailment of the present paradigm of development. If we translate the name in Urdu, it is an abuse. Fatherless in Urdu is an abuse.
The first conclusion in the book is that 46% of American adults are fatherless. In US, age of adulthood is 15 and not 18. In our Society, we consider 18 years old as adult. Americans become adult earlier because they are exposed to unnecessary and unwanted things at an early age. Childhood is lost. At the age of 15, they become adult. 46% of the adult Americans either do not have a father or do not know who their father is. Even the mother does not know who the father is. That is American society in 1994! Not just single-parent families, even the single parent is only mother, and she doesn't know who the father is. The child does not know his father and this fatherless America is the cause of social chaos existing in US. Blankenhorn founded the National Fatherhood Initiative, a non-partisan organization focused on responsible fatherhood, in 1994.
Following the western system in social work is definitely going to be a failure in creating any social order. They themselves accept that it has failed there. They themselves say all this crime, gun & drug culture present today in America is because of this breaking of family and fatherless society. Not just a social ailment, cultural problem, but also increasing crime prevail in America, that has produced many godfathers of social work. Nobody talks about it but when very unfortunate incidents like Nirbhaya case happen, 'intellectuals' play political games, degrading our own country. At the time of Nirbhaya, print media painted Delhi as the rape capital of the world. But if you go to any authentic website on world statistics, and crosscheck the facts, you will be staggered. You go to United Nations Development Program (UNDP) statistics on crime in the world. Crime against women for one lakh population, rape rate in Bharat is 1.8 rapes per lakh, 27.3 in America, 28.6 in Australia, 17 rapes for one lakh in England. The contrast is obvious. This is what happens when Society breaks. (Ref. https://www.nationmaster.com/country-info/stats/Crime/Rape-rate, https://en.wikipedia.org/wiki/Rape_statistics)
There were huge hurricanes in California by the name of Rita & Katrina. During those hurricanes, everybody took shelter in a community place for disaster management. Power was out just for 15 minutes in that hall where everybody had taken shelter, and in just these 15 minutes, hundreds of rapes took place! That's what rape capital means, not a country with a rate of 1.8 per lakh. We are worried about this percentage also because we do not want even one crime to happen. Even 1 in 130 crores, we cannot tolerate. It is not a happy comparison but a crude reminder what happens when society gets disintegrated.
The effect of this break down is not just social, cultural or criminal but the greatest fallout is on economy. How many of us know that United States which has the GDP of 21.4 trillion dollars (Ref. http://worldpopulationreview.com/countries/countries-by-gdp/) has a national debt of 22.5 trillion dollars in August 2019. (Ref. https://www.usdebtclock.org/) Obama government had to shut down its own government for two weeks. Trump has already done it for one and a half weeks. Donald Trump did not have money even to pay the salary. On the other hand, Bharatiya government is giving the seventh pay commission. That is the economic state of American society. Why? Because 50.1 % of the total Government expenditure in US is spent on Social Security. (Ref. https://stats.oecd.org/Index.aspx?DataSetCode=SOCX_AGG)
What happens when society breaks? Government must feed the population. Government must give food tickets. The government must pay unemployment allowances and that is to the tune of half of the government expenditure in case of America. America cannot sustain under social pressure. Why? Because of this paradigm of sociology and social work that is totally dependent on the government.
If we start implementing that paradigm here, which we have been doing right from the inception of Social Work courses in Bharatiya universities, we will break our society. So Social Work professionals, our graduates, who have been taught this westernized syllabus of Social Work, will not integrate the society. They will break the society. That is what has happened. That is what is called separatism, which is happening in many places, in the northeast because of this wrong paradigm of social work.
The work on Bharatiyakaran of social work will not just benefit our society but will also provide intellectual leadership much needed by the whole world.
IMPORTANCE OF INDIC VALUES FOR BHARATIYAKARAN/ INDIANISATION OF SOCIAL WORK EDUCATION
Dr. Bishnu Mohan Dash
Assistant Professor (Senior Scale),
Department of Social Work
Bhim Rao Ambedkar College(University of Delhi), Delhi
email-bishnudash2006@gmail.com
Introduction
The concept of Bharatiyakaran of social work education has generated immense debate in the social work fraternity both at the national and global level.  Bharatiyakaran of Social Work curriculum is absolutely an integrated, inclusive and holistic curriculum. It has made an attempt to expand the philosophical base of social work. The curriculum has not only included the Indic perspectives, but also Afrocentric and Sino centric perspectives in Social Work. The proponents of Bharatiyakaran are not against Euro centric syllabus and even the western paradigm of social work has been added in the curriculum which is essential required. The concept of Bharatiyakaran rejects the understanding of Indian Society from western perspectives. The Euro centric knowledge is not universally accepted knowledge, critiqued many times for universal applicability without proper validation which has not produced any desired results. Whatever revisions have been made in the past eight decades in regard to social work curriculum, it was done simply fitting and refitting the western paradigms of knowledge in the social work curriculum, while the neighbouring country china has made tremendous progress and quite ahead in this direction.
Bharatiyakaran of social work is trying to give new direction to social work education and practice in India. It aims at rewriting and redefining the journey of future course of social work education in India. For the past eight decades we have been trying to fitting ourselves within the imported western curriculum in the Indian setting. Bharatiyakaran of social work curriculum has attempted to create a balance between Indic wisdom and international standards of social work education. It aims to restore the negative image of India as projected by culturally alienated people. Indic knowledge, beliefs, traditions and culture which were sidelined earlier, has been included in the Bharatiyakaran of social work curriculum. India's ancient civilizational wisdom in the field of research, social service, rural development experiments, have been given due importance in the process of designing new curriculum.
Bharatiyakaran of social work curriculum focuses on expanding the philosophical base of social work which were earlier excluded from the curriculum. In the process of indigenizing the social work curriculum it was felt that it is necessary to broaden the philosophical base of social work. Accordingly, when designing the curriculum sufficient emphasis was given in locating different philosophical aspects to make it more holistic, inclusive and integrated.
Difference between Bharatiyakaran/ Indianisation
Bharatiyakaran of social work and indianisation of social work is not synonyms to each other. Of course the article 1 of the Indian constitution says that India that is Bharat which is legally and constitutionally true but the etymological definition of Bharat conveys different meanings. In the same way, 'dharma' and 'religion', 'society' and 'samaj' are not synonyms to each other. In the context of Bharatiyakaran of Social work education, it implies 'decolonization', 'indigenization' and 'indianisation'. It aims to contextualize the social work education which is applicable and relevant in Indian context. Bharatiyakaran of social work education also emphasizes the importance of Chinese and African perspectives in social work. Even the Bharatiyakaran of social work curriculum is also not against the western paradigms/ perspectives of social work. However relevant and useful knowledge/ theories from the west have not been sidelined in the Bharatiykaran of social work curriculum. It neither promotes any particular ideology nor rejects any ideology. Misconceptions about the process of Bharatiyakaran for promoting any particular ideology reflects the anti-India mind set who have utter lack of understanding about India's civilizational wisdom.
Bharatiyakaran/ Indianisation as a process
The Bharatiyakaran of social work curriculum is an educative and consultative process where more than 32 experts actively participated in designing the curriculum which is partially implemented in various universities in India. The experts from various reputed schools of social work including TISS, Mumbai, Department of Social Work, University of Delhi, Jamia Millia Islamia, Assam University, Silchar, Mahatma Gandhi Antarrashtrita Hindi Vishwa Vidyalaya, Wardha, Indore School of Social Work, Punjabi University, Patiala, Mizoram University, Central University of Kerala, Central University of Karnataka, Udaipur School of Social Work, Tumkur University, Bharatidasan University, Tamilnadu, Pondicherry University, Tirpude College of Social Work, Nagpur, Matru Seva Sangh, Nagpur, Central University of Rajasthan, Bhopal School of Social Sciences, Bhopal, Bharatiya Vidyapeeth University, Pune and others actively participated in the brain storming exercises for designing the new Bharatiyakaran of Social Work Curriculum. During the brain storming sessions, relevant sources of indigenous knowledge were tapped and identified and incorporated in the curriculum. The Indic Philosophy 'Vasudhaiva Kutumbakam' (the whole world is our family), and' Sarve Bhavantu Sukhinah' (let all be happy) were the guiding principle when designing the Indic social work curriculum.  These philosophies are closely associated with social justice, social development and international social work goals and it includes everyone in the universe. Ignoring the indigenous source of knowledge or limiting the work of some prominent figures and criticizing and labeling in one or other pretext highlights the narrow understanding about the concept of Bhartiyakaran as well as devaluing and diluting the very essence of the movement towards Bharatiyakaran of social work education. So it is the need of the hour that Indian Social Work academics should engage in the global debates on the importance of the Indic paradigms and models of social work.
During ancient and medieval times, assistance to the vulnerable people in India was provided primarily in the form of charity and was offered by religious temples, moths (religious facilities where people stayed) and dharmashalas, were  places to stay that were free of charge(Reamer  & Nimmagadda, 2017). Of course, social work profession in India is very old, however formal education in social work started in India with the establishment of Sir Dorabji Tata Graduate School of Social Work in Mumbai in the year 1936. India has lagged behind in developing indigenous social work values relevant to our country. Indian social work emphasizes the values of sarvodaya (the welfare of all).
Indic Values in Social Work
Values are of great importance to professional social work practice. Perhaps more than any other profession, values in social work gives direction to the profession (Mattison, 2000).  Values basically act as guidelines for our behavior. Our system of values is so much a part of us we cannot separate it from ourselves. It becomes the navigating system that guides us. It establishes the priorities in our lives and judges what we will accept or reject (Maxwell, 1993). Values are used to articulate goals and out comes, identify preferred means of attaining them and support policy decisions at various levels of practice (Gambrill, 2011). The National Association of Social Workers (NASW) of USA has listed six values in social work which is widely accepted among the social work fraternity across the globe. The NASW mentions social service, social justice, dignity and worth of the person, importance of human relationship, integrity and competence as social work values.
Values are the foundations of social work profession as it guides the social workers in the pursuit of welfare and social development. Adherence to the values will enhance the quality and effectiveness of social workers towards service delivery of its clients. Social work being a human service profession, values plays an important role in guiding the social work professionals to serve the humanity in a more professional, dedicated and spiritual manner. As Dash & Roy defines " social work is a value based ethical and spiritual practice based profession that aims at addressing the overall problems of individuals, groups and communities to attend a peaceful life" (Dash & Roy, 2016). The social work practice is closely is very closely related to the prevailing socioeconomic, political and cultural settings of the country. The social dynamics of Indian society is witnessing due to fast changes due to globalization and colonization in every fields which calls for decolonizing social education curriculum and field work modalities in tune with Indic value systems. A social workers life and actions are based on and guided by a set of core values and also it is critically important for them as they are working with individuals, families, groups and communities in problem solving process(Thomas, 2016).
The word dharma is derived from the Sanskrit word 'dhru' which refers to hold together and to preserve (Kane, 1941). Dharma is also considered as a norm which sustains the universe, the principle of a thing in virtue of which it is what it is (Radhakrishnan, 1948).
Dharma is the first Purushartha of human life. In ancient Indian literature, there is a common axiom ' Dharmen Vihina Pashau' meaning human beings devoid of dharma is as better as animal. Just as material possessions are evaluated on the basis of its monetary values, human beings are evaluated in terms of dharma, spirituality and the duties performed for the welfare of the society. Dharma according to Manu, the first law giver of human kind is constituted of ten prominent values. They are dhati (patience), kshama (forgiveness), dama (control of mind), asteyam( non-stealing), auca (cleanliness), indriyanigraha (control of sense organs), dhi (intellect), vidya (education), satyam (truthfulness), and akrodha (non anger) (Arya, 2018).  Dharma as a social work principle upholds the rights, dignity of all living beings in the society and provides restraints form any kind of harm towards any living creatures in the whole world. Dharma as a social principle is essential for harmonious and peaceful coexistence of the society.  The social work professionals should practice dharma in their social work practice and perform their duties in a very righteousness, truthful, and honest manner aiming at all round welfare of their clients.
According to Patanjali, dharma is of two types, Yamas (restraints) and Niyamas (observances). The five Yamas according to Patanjali are: a) Ahimsa or abstention from all kinds of injury to any one life, b) Satya or truthfulness in thought and speech and abstention from falsehood; c) Asteya; non-stealing i.e., abstention from unauthorized and illegal appropriation of things and values from other persons, d) Brahmacharya, which means abstain from cardinal desires and passions and lastly e) Aparigraha which means abstention from expecting unnecessary gifts from other persons. The five Niyamas  consists of developing good habits required to be a successful social worker viz, a) sauca, which means cleanliness by eating pure food and developing pure thoughts and emotions as well as kindness and abstention from arrogance, jealousy and vanity), b) Santosa, the  habit of being satisfied in ones means; c) Tapas or penance which consists of in the habit of enduring cold and heat etc., and observing austere vows, d) Svadhya means study and pursuit of religious books and lastly Isvarapranidhana or meditation meaning  devotion to supreme God( Chatterjee & Datta, 2007). The social workers should have sound body and sound mind to effectively deal discharge his duties in a religious and spiritual way. The Social workers should properly observe the various niyamas and yamas to abstain from evils which will enable him to do his/her duties devotedly for the welfare of humanity.
Ahimsha- Ahimsha (a+ himsa) simply means without violence. Ahimsha therefore literally means, not inflicting pain or injury upon others. It is usually understood and interpreted as non-violence. However, non-violence is just one aspect of ahimsha or non-injury (Jayaram, 2019). Non-violence is considered as one of the highest virtues in the Indian ancient traditions. Even the Jains practice highest form of non-violence as they even do not want to harm or injure even the smallest organism in the world. It is one of the five anuvratas or vows to be followed by every Jains before beginning of their spiritual path to complete monkhood. The Buddhism also propagates for non-violence and its followers adhere to the eight fold paths of Buddhism. In Indian traditions particularly among the Hindus, Buddhists, and Jains, non-violence is the epitome of detachment and renunciation and practiced in various ways and forms (Jayaram, 2019). It includes non-injury to any living beings, abstaining from animal and human sacrifices, the practice of forgiveness and moreover compassion and kindness to all living beings.
The word 'Nishtha' means having complete devotion and reposing faith and confidence in clients. It is based on the principle that social worker should accept the client as he or she is. with trust and confidence to the clients and every human beings. Social workers should accept the client as he/she is. The principle of acceptance is a universally accepted principle in social work. In Bhagwat Gita also Bhagwan Krishna mentions of two types of Nishtha, Jnana yoga and Karmoyoga. The social workers must acquire through and deep knowledge on social work theory and practices. They must have deep interest to learn the latest developments in the field of social work so that they can serve the clients effectively towards their satisfaction dedication (Dash, 2019). The karma yoga is also very important for social workers. They should concentrate passionately and seriously with utmost honesty and dedication.
Upeksha means imperturbability, placidity, self-assuredness, self-confidence, self-trust and easygoingness. However it does not refer to indifference.  Upeksha rejects any kind of discrimination and prejudices. Upeksha is a Sanskrit term which means self-control, tolerance and also non-attachment Upeksha is the fourth element of the Buddhist Brahmaviravas. Patanjali's Yoga Sutras also describes Upeksha as a medium for obtaining a balanced life, removing intolerance and caring for all equally. The value of upeksha among the social workers helps them to examine the situation holistically. It also imbibes among the quality of self-confidence to handle the situation successfully(Dash, 2019). It is also an essential quality for rapport formation among the clients as well as colleagues. It also motivates the social workers to work for the happiness of others with a devoted mind. So, upeksha is a very important value to effectively deliver social work interventions.
The word 'satya in Sankrit refers to truth.  Satya is considered as a virtue in various forms of indian religions. It highlights honesty and truthfulness in one's behavior, action and thought. It prescribes any kind of dishonesty, falsehood in ones behavior and actions. Even the Patanjali's Yogsutra mentions 'satya' as one of its 'yamas' (restraints). Satya is an essential requirement for the harmonious existence of the society. Social workers should operate on the principle of satya , practice truthfulness and honesty in their behavior, approach and actions and prevent from any kind of falsehood . This will definitely promote a harmonious and healthy relationship between the social worker and the client. The social work profession in India should get rid of colonialism, imperialism and should promote Indic social work values, methods and techniques for dealing with clients successfully. It will definitely harness their skills as social workers and will provide impetus for more acceptance and recognition of social work as a profession in India.
References
Arya, R.P. (2018). Relevance of Vedic education in Modern Times, Swarna Pravas, Bhartiya Skhishan Mandal, Nagpur pp. 18-26
Chatterjee, S. & Dutta, D. (2007). An introduction to Indian Psychology, Rupa Publications, New Delhi, pp. 271-289.
Dash, B.M.(2009).  Retrieved from https://www.newdelhitimes.com/indic-social-work-values/ on 21 May, 2019.
Gambrill, E. (2011). Social work practice: a critical thinkers guide (2nd ed.), New York, Oxford University Press.
Jayaram,V.(2019). Ahimsa, non-violence or non-injury, retrieved from http://www.hinduwebsite.com/hinduism/concepts/ahimsha.asp retrieved on 30 March 2019.
Kane, P.V. (1941 ). History of Dharma Shastra, vol. 1, Bhandarkar Oriental Research Institute, Pune, p.1
Radhakrishnan, S. (1948). Religion and Society, George Allen and Unwin ltd, London, p.107
Reamer, F.G. & Nimma gadda (2017). Social Work ethics in India: A call for the development of indigenized ethical standards, International Social Work, vol. 60, No. 1, pp. 182-195.
Mattison, M. (2000). Ethical decision making: The person in the process, social work, 45(3), 201-212.
Maxwell, J. (1993). Developing the leader within you, Nashville, TN: Thomas Nelson.
Gambrill, E. (2011). Social work practice: A criti-
cal thinker's guide (2nd ed.). New York, NY:
Oxford University Press.
Yogapedia, 2019 https://www.yogapedia.com/definition/5611/upeksha retrieved on 8 April, 2019.
https://en.wikipedia.org/wiki/Upeksha_(Indian_thought) retrieved on 8 April, 2019.
https://en.wikipedia.org/wiki/Satya retrieved on 8 April, 2019.
ARYA SAMAJ AND SOCIAL EMANCIPATION IN INDIA
Sandeep Sen
PhD Scholar Department of Social Work Indira Gandhi National Tribal University Amarkantak, MP
Dr. M. Nagalingam
Assistant professor Department of Social Work Indira Gandhi National Tribal University Amarkantak, MP
Introduction
India is a country of diversity and known for its tolerance, heritage and culture. India's social system and ancient knowledge was enormously damaged by foreign invaders. The prosperity which was remaining in the Mughal era also destroyed during the British rule. India was politically weak during  this period and the Indian civilization and culture almost deteriorated , Moral values of society started to decline and  this was also  the unfavorable  time for ancient art because during this period old fine art started to degraded  and no any new art form emerged.<![if !supportFootnotes]>[1]<![endif]> This worrisome situation of India attracted the attention of the thinkers and they envisioned the social and religious reform movement to bring about change in this situation as a result organization like Brahmo Samaj, Arya Samaj and Rama Krishna mission emerged.
Foundation of Arya Samaj
 10th April 1875 at Mumbai Swami Dayanand Saraswati founded the Arya Samaj, for physically, socially and spiritually welfare of the mankind with the help of indigenous knowledge. Swami Ji described Arya Samaj as the society of nobles where all are educated and prosperous and free from superstition and hypocrisy. According to him, Aryas does not belong to any caste, every person whose principles are high is called Arya and who lead a life of wickedness and sin is dasyus. He said foundation of Arya Samaj organization is not the establishment of any new religion; it is merely the process of following ancient wisdom. Swami Ji believed that adulteration in religious texts strengthened superstition and Hypocrisy because of which apathy toward the Vedic religion began to develop and because of this convergence had begun<![if !supportFootnotes]>[2]<![endif]>. Swami Ji rendered ten principles based on Vedic knowledge for the welfare of all humanity.
 Ten principles of Arya Samaj
<![if !supportLists]>1. <![endif]>"God is the primary source of all true knowledge and all that is known by its means.
<![if !supportLists]>2. <![endif]>God is existent, intelligent and blissful. He is formless, omnipotent, just, merciful, unborn, infinite, invariable (unchangeable), having no beginning, matchless (unparalleled), the support of all, the master of all, omnipresent, omniscient, ever young (imperishable), immortal, fearless, eternal, holy and creator of universe. To him alone worship is due. 
<![if !supportLists]>3. <![endif]>Vedas are the scripture of all true knowledge. It is paramount duty of all Aryan to read them, teach and recite them to others. 
<![if !supportLists]>4. <![endif]>All human beings should always be ready to accept the truth and give up untruth. 
<![if !supportLists]>5. <![endif]>All our actions should be according to the principles of Dharma i.e. after differentiating right from wrong. 
<![if !supportLists]>6. <![endif]>The primary aim of Arya Samaj is to do good to the human beings of whole world i.e. to its physical, spiritual and social welfare. 
<![if !supportLists]>7. <![endif]>All human beings ought to be treated with love, justice and according to their merits as dictated by Dharma. 
<![if !supportLists]>8. <![endif]>We should all promote knowledge (Vidya) and dispel ignorance (Avidya). 
<![if !supportLists]>9. <![endif]>One should not be content with one's own welfare alone but should look for one's welfare in the welfare of all others. 
<![if !supportLists]>10. <![endif]>In matters which affect the well being of all people an individual should subordinate any personal rights that are in conflict with the wishes of the majority. In matters that affect him/her alone he/she is free to exercise his/her human rights". (Aryan Voice, 2018)
Swami Dayanands Annotation on Religion: Swami Ji has written in very simple words in his eternal literature "Satyarth Prakash" that religion is one where there is no conflict of mutual interest of individuals.  Religion is universal, which does not have special relation with particular country, caste and era. Man's true religion is always to be prepared for the welfare of the world and to accomplish this task; every individual has to understand the whole world as his own family. If a person wants to welfare of mankind, then he should not pay attention to any person's religion, caste, country, language and color. The person should not think only about his advancement, but he will have to think about progress of everyone and this is possible only when the affluent people will try to improve the condition of the people of the lower classes.
Repudiation of Hypocrisy and Conservatism: According to the Arya Samaj philosophy, there is only one God who created the Vedas before the creation of the world, therefore Vedas are eternal compared to the world<![if !supportFootnotes]>[3]<![endif]>. Arya Samaj always opposed social evils and many unnecessary customs.
 The Arya Samaj has also been strongly opposed to animal sacrifices. Swami Ji citing the Vedas said that animal sacrifice is an act against the Vedas. He composed the book "Gokarunanidhi" to make people aware about animal abuse<![if !supportFootnotes]>[4]<![endif]>.
Education of Sudras: Swami Dayanand tried to raise the status of the untouchable; he was against the caste system but accepted the Varna system. He said that the main purpose of creating four varnas is the division of work in society by which all functions of society can work properly. Varna is determined on the basis of virtue, character and nature of any person that is why Varna is related to merits not from birth. Every person who can increase their qualities of character and intellectual efficiency can enter other Varna. A shudra may become Brahmin, Ksatriya or Vaishya and the person of the above varnas may be shudra due to loss of qualities and deeds. He gave special emphasis on the education of the untouchable or sudras and said that if God did not want to give the right to be educated for sudras, then why would he give him the gland to see and hear?<![if !supportFootnotes]>[5]<![endif]> Arya Samaj raised the level of sudras and ati sudras by giving them right to wear janeu (holy thread wore by priest) this led to a sense of self-respect among these castes.
Dissemination of Women Education: Literature of Arya Samaj gives an accurate interpretation of women's education and their status. Swami Ji has written in Satyarth Prakash that in ancient times, women were trained in archery and other war crafts. Women used to participate in war with men; they were not limited to the house threshold. In addition to warfare training, women's also studied the scriptures and therefore the teaching of girls in Gurukulas was possible<![if !supportFootnotes]>[6]<![endif]>. In the Vedic period, it was mandatory for the person to follow Brahmacharya (celibacy) till the completion of education. After the completion of education, men could marry a woman of their choice, women were given similar rights. Arya Samaj has made a big contribution in improving the status of women by opposing the marriage of girls of small age. Sarda Act popularly known as child marriage restraint act which prohibits child marriages is the result of the hard work of this organization.
Entry into Politics for Social Interest: The influence of socialism can also be seen in the philosophy of Arya Samaj. Swami Dayanand wrote in Satyarth Prakash "The farmers are the king of kings who work hard and kings are saviors of farmers" and this organization entered in to politics through these ideologies. Supporting Swadeshi, Arya samaj gave maximum support for Congress and several members of organization participated in the movement for independence of the country. At the beginning it was associated with Hindu nationalism and criticized for its intolerance towards other communities but there is no doubt that this organization collectively managed to create love for Swaraj and Swadeshi in people. Lokmanya Tilak and Dada Bhai Nouroji were the national leaders and they very much influenced by the patriotism of Swami Dayanand and Arya Samaj. Dada Bhai Nouroji used to say that I had learned word Swaraj from Swami Dayanand's Satyarth Prakash.<![if !supportFootnotes]>[7]<![endif]>
Shuddhi Movement: The objective of the Arya Samaj was to revitalize Vedic religion and therefore it was imperative to bring back those people of deprived sections who had adopted another religion and turned away from their true religion. Swami Ji believed that those who are separated from us because of our negligence and humiliation can be adopted again<![if !supportFootnotes]>[8]<![endif]>. Later this movement was strongly condemned by other religions.
Concrete Examples of Philanthropy and Social Services across the Country
 Arya Samaj started work related to social services and philanthropy at wider level and it was the first non-Christian organization in the country that started   informal movement to deal with drought and disaster, arrangement of ashram for widows and orphans, foundation of school colleges and vocational training centers for girls and boys. Organization worked pro bono for large scale relief work for Famine in 1897-8, 1899-1900 and 1908. Arya samjis involved to serve for earthquake afflicted in Kangra valley in 1904 and received praise from the government and public.<![if !supportFootnotes]>[9]<![endif]> All work done with the help of money received in the form of donations.
Conclusion: India is a country that gave the concept of Vasudhaiva Kutumbakam, according to which the whole world is a family. Through this kind of thoughts, ancient Indian saints spread the message of humanity and peace in the country as well as abroad. Arya Samaj is not merely an organization but an idea that has inspired and awakened the sleeping people. After studying the 10 principles that have been developed by Swami Dayanand Saraswati, understanding the concept of religion, education and humanity becomes clearer. Drug addiction and moral decline are the main problems of the present era; this organization is constantly working to solve them together with other social, cultural and spiritual organizations in the country and abroad. It is evident that the Arya Samaj is instrumental in empowering the women, youth and downtrodden. It has shown the way for social emancipation and it is also relevant in the present situation. These experiences can guide the social workers to address the issues related to women and other weaker section of the society.
INDIAN CULTURE AND WORLD VIEW OF SOCIAL WORK
Prof. Prasanta Kumar Ghosh
Department of Social Work,Visva-Bharati
 Dr. Bishnu Mohan Dash
Assistant Professor, Bhim Rao Ambedkar College,University of Delhi
India is one of the countries of the world that carries a rich social and cultural heritage which dates back to 3000 BC. The culture of Harappa and Mohenjo-Daro (now in Pakistan) is considered to be the oldest and finest culture as regards the quality of life the citizens of any state. The second oldest culture observed in Indian history is the Vedic period between 1700 and 600 BC when the Aryans came to India, probably from Persia speaking Indo-European language. During this period these nomadic tribes began the era of agricultural society settling at the Ganges valley. It is also assumed that the caste system based on the occupation emerged during this time. Sharing of resources among the members of the communities and the society at large came into being at this point of time, though there are agreements and disagreements among the historians. Vedas guided the social and cultural life of the people during this period. The Vedas, the Upanishad and the Gita the oldest epics controlled the people with an open and broad outlook, preaching the welfare of the poor with almsgiving including all other assistance to the people in need, accepting that all the human being as individuals possess dignity and worth. Tolerance was preferred than violence for maintaining peace and tranquility in society.
The third oldest culture which developed in undivided India is as old as 300 to 500 BC when Gautama Buddha established the paths of life. In fact, many professional social workers consider Buddha as the first social worker in Indian and the world on the following logic.
He left the place at young age and went for searching the knowledge on humankind and their sufferings. He moved around the communities and learned from his observation and made scientific analysis about the causes and effects relationships of suffering of the poor, downtrodden and the sick. Meditation after observation helped him to conceptualize the truth behind all kinds of sufferings creating a knowledge base on the life and living of people and the society in general.
While living in the communities with the masses he got trained in building rapport and providing the services according the needs of the individuals, groups and communities. His association with common and needy could be compared to a systematic training in providing social services. While conceptualizing the ways of happy life his eight paths were recognized as the right way of living life. This approach of service delivery got recognition from the people across the world. It won't be wrong to say that his teachings were spiritually and socially recognized everywhere.
Finally, Buddhism is now an international organization serving the well off people spiritually and the downtrodden with the basic necessities of life with a concern for peace. Buddhist Monasteries are now professionally managed organizations of the world. In this sense Gautama Buddha is the first professional social worker in India which meets all the essential requirements of a profession. Buddha's teaching may be viewed as both a reaction against rigid, ritualistic Brahmanism and the loss of his status to Kshatriyas.
Gore<![if !supportFootnotes]>[10]<![endif]> (1966) in his article 'The Cultural Perspectives of Social Work in India' wrote that at least five approaches can be identified as the religious-traditional, the liberal-reformist, the secular-missionary, the ethical-revolutionary and the liberal professional. It's true that social service emerged from religious faith but some superstitious belief called for reform of the same with the initiatives of the reformers. The secular missionaries took the welfare and development of the social milieu a step further with their concern for humanism. The ethics that governed the conduct and behavior of the people traditionally in India inculcated the altruism among all human sect. The professional approach with rights and justice came much later with beginning of the formal training in social work in India.
The culture of any country or society is based on;
<![if !supportLists]>a. <![endif]>Religious belief and practice
<![if !supportLists]>b. <![endif]>Social norms and customs
<![if !supportLists]>c. <![endif]>Economic policy and practice
<![if !supportLists]>d. <![endif]>Ethical and spiritual values
<![if !supportLists]>e. <![endif]>Prevalent political environment
Religious belief and practice
The cultural tradition and social service in India is one of the oldest and were inbuilt in the social systems itself. Vedas prescriptions about the life and living of the people were based on natural laws that govern the universe. Live and let live was the basic policy. Give and take was the way of life. Lives of people were based on mutual help and assistance. The Gita and the Upanishad furthered the value laden society inculcating high levels of moral and ethical consideration. Happiness or the bliss is essential for everyone's life and living. This could be achieved by good deeds or pious act by offering food to the hungry poor, crippled, and any person in need of basic things for survival. This giving in the early Vedic period included cattle, land, female and male slaves, grain, clothes etc. Following the guidelines of the Vedas and the Upanishad the ultimate aim of life for any person living in a Hindu society was to acquire virtue which will pay them back in future including on their rebirth. Group and community living were then common in such state of mind of the people. Hindus believe in birth and re-birth of the immortal souls everybody wanted to achieve higher status in society by doing charity to the people as an act of merit.
Guilds in ancient and medieval India were the corporate organization that provided a number of social and economic welfare programmes for the vulnerable populations. Later on, these guilds were considered as the part of the state. Buddhism emerged in line with Hinduism, though contradicting the Brahamanism and their supremacy, but accepted without much conflict with each other. In fact, cultural history show that there was minimum conflict among different religious groups of India till the medieval period beginning from 1000 BC until the Mughal invaded this land with a different culture 12th century AD. The religious and social order was then controlled the behavior and conduct of the citizens in the country preventing war and conflict. Joint families and communities made provisions for the aged, the sick, and the person in distress including the unemployed. Suffering was considered as a temporary lapse due to individuals' inactiveness. According to the Hindu religion 'work is worship and nothing could be achieved without hard work'.  As social harmony prevailed with high level of values among the people during the Vedic period, the tradition continued until the beginning of 12th century.
During the 1st to 8th century AD the Mauryan rules the king was made responsible for the welfare of the subjects. The welfare activities since then became a state responsibility along with the religious and charitable institutions. During this period "the general population had few rights. Their duties not only specified in great detail for all aspects of their lives, but also strictly enforced. A close watch was kept on them through a comprehensive and efficient system of espionage. There was a huge bureaucracy running the highly centralized system of administration, which was supported by a large professional army. There was little freedom for the people."<![if !supportFootnotes]>[11]<![endif]> The status of women during this period was somehow better as they had property rights, right to divorce and remarriage which were not sanctioned under Brahamanism, the state discouraged asceticism that were being popular following the Buddhist influence. In a caste layered society where occupation was decided by their status in families it was almost impossible to change their occupation.
King Ashok followed the similar bureaucracy and wanted to expand his kingdom with his army. After Kalinga war when he was shocked by the bloodshed he adopted the paths of non-violence following Buddhism. Soon he became a benevolent king due his concern for the welfare of his subjects. Most notable tradition he introduced was special care for the women appointing officials as Superintendant of Women. Taking the welfare further he appointed High Commissioners of Charity for organizing donations from the royal families and regulating all charity work in the state. Prison welfare was another area of intervention initiated by Ashok with Commissioners of equity. He made special provisions for development rural inhabitants as they were backward in all sense though they used to feed everyone with agricultural products. The ideology of the state of Ashok was based on humanism. As follower of Buddhism and his love for the common with strategic development plans is one of the pioneer works done in ancient period in India. The people of ancient India were more religious and spiritual in nature and compliance to religion developed the spirituality to the highest level leading to happiness in life.
Social norms and customs
Social norms and customs in India has been the backbone of its culture and cultural regeneration since time immemorial. As found in Kautilya's 'Arthashastra', (economic policy) the citizens generally used to follow the general norms of the society as any violation of duties or customs was viewed as a criminal offence for which they were fined. Being fined for malpractice was a matter of shame to the citizens. Therefore, there were hardly any violations of the general norms to be followed by them. Citizens had to keep them ready to serve the country at any time to fight against enemy, wild animal and calamity like fire and flood. The example set by the then Indian society and the state became model to follow for many developed countries.
Joint families used to provide shelter to the children, aged, persons with disability, the women in distress and the unemployed members of the family. Orphanage, old age homes, short stay homes were not required for people in distress. What best culture and institution can be other than joint family for social satisfaction of living together? Panchayat and Caste Panchayat were also responsible for the orphans, abandoned, children and the aged giving no scope of distressful situation of any members of the Panchayats. The Panchayat functioned as judiciary for resolving disputes at the community level. Social functioning and social conscience was also inbuilt in Indian social systems. All human are indebted to each other as members of society because in society that man receives the stimulus to realize his/her innate dignity as human. The significant contribution of the people here has been the concept of seva (service) which is tied to the concept of duty or indebtedness (Banerjee, 1970)<![if !supportFootnotes]>[12]<![endif]>. Therefore, human service for others is moral and ethical duty was imbibed by everyone living in society.
Economic policy and practice
Barter system operated the whole economy enhancing social and personal ties with each other. Exchange of products according to the needs and services the provider and the recipients perfectly matched without much bargaining. The products and services were much more important than the values of each product. Land and natural resources were common property to which everyone had access as per their needs and capacity to use and produce. The kings collected revenues of land and gave back to them through welfare and development programmes including the times of emergency and natural calamity. Both kings and subjects were accountable to each other. Waiver of revenues was considered in times of flood and famine or other natural disasters. The peaceful co-existence of the king and subjects had set an example of social and economic system where ups and downs were controlled by equilibrium between the demand and supply. There were plenty to meet their needs. Though the kings were responsible for developing and implementing the policy on economic transaction but there are no examples where such evidence is found in this country except levying different kinds of taxes from time to time. The British took over Indian administration and implemented the economic policy favouring their trade and business. Traditionally, the economic policy in this has been lopsided favouring the administrators without any concern for the commons. Material benefits alone cannot ensure human welfare, hence the concept of welfare in ancient India was not restricted to physical or material welfare but went beyond based on spiritual wellbeing. Consequent upon these understanding of individuals in society, based on their ethical and spiritual values, were looking for social satisfaction than that of economic gain. Barter system operating in ancient and medieval India minimized the economic transactions which has become very important in modern society. 
Ethical and spiritual values
Religiously and culturally India had a high place with regard to ethics and values of the citizens. During the Chandragupta's rule in India the citizens were so honest that nobody used to touch the articles belonging to others i.e. gold coin lying on the road was never picked up anyone on the plea that it's not his or her. Welfare of others was concern for all the citizens, hence they never had any selfish attitude to grab a common or other's property and enjoy for self only. The joint families which provided shelters to the members could survive due to high ethical values of the people in general and charity to others beyond family in specific. The Gita says that welfare of others is one of the primary duties of an individual. According to Swami Vivekananda "all healthy social changes are manifestations of the spiritual forces working within and if these are strong and well adjusted, society will arrange itself accordingly. Each individual has to work out his own solution; there is no other way, and so also with nations. Again the great institutions of every nation are the conditions of its very existence and cannot be transformed by the mould of any race. Until higher institutions have been evolved, any attempt to break the old ones will be disastrous. Growth is always gradual."<![if !supportFootnotes]>[13]<![endif]> Tagore and Gandhi were also in favour of the needed change but keeping in mind the cultural tradition of this country which eco friendly and sustainable. Unfortunately, Indians have lost that tradition in a market economy and consumerist world due to breaking up of joint families and self centric behavior in the modern era and going on with the competitive economic activity at par with the international developments. 
Prevalent political environment
The political environment in any country is the key in formation of the culture of the people. In ancient and medieval India, the emergence of state with kings could be found 300 to 500 BC since Gautama Buddha was born as a prince. The benevolent kings like Chandragupta Maurya, Ashoka were concerned about the welfare of their subjects. The administration of the state was managed by them and citizens followed the code of discipline in accordance to the religion and state directions which included the welfare of the individual and communities. The kings and subjects together had a policy of renunciation when one earned more than their needs. There were instances of establishing schools for education, guesthouses on the road sides, shelter for orphans, hospitals for the sick, temples and monasteries as centers for spiritual development. The Gita recommended that the leaders of the society are having a special responsibility for the welfare of the people. This is what all our religion of mankind says. The Gita also says that each individual has innate to raise oneself to the maximum capacity. One has to make all-round effort to this end for their growth and development. The individual wanting to serve must have love and feeling for the people without which we cannot enter into therapeutic relationship with the client<![if !supportFootnotes]>[14]<![endif]>. Patanjali in his treatise on Yoga emphasized the attitude of mind such as Maitri (friendliness i.e. warmth of feelings) and karuna (compassion). Lord Buddha also stressed on these for self-development. Swami Vivekananda said when love greases its wheels that it runs smoothly; it is a continuous friction otherwise.
The medieval era saw the rise of the Mughal and Sultanate period which brought a different religion and culture of war and conflict that king Ashoka did initially but turned himself non-violent adopting Buddhism as his way of life. If peace and happiness is looked for then non-violence is the best way. Mughal kings while conquering India had established their culture and religion breaking the traditional culture existed in India. The Mughal and Sultanate period saw many ups and downs among the citizens with new taxation laws as well as welfare and development of the citizens. Change in political scenario and change in the rules of the state assimilated the culture of this country and the culture of the invaders.
The continuum of cultural assimilation could be seen during the British period in India which has probably changed the life style and culture of India from eastern to western in 190 years of their rule. Clifford Manshardt one of missionary, instrumental in founding the social work education in India at Dorabji Graduate School of Social Work, Mumbai wrote, "the introduction of British education had far reaching effects on India. Lord Bentinck carried the general policy a step further when he laid down that the type of learning …. should be western education and that the medium of instruction should be English."<![if !supportFootnotes]>[15]<![endif]> The life style in cities being followed now is based on British culture, be it education, food, dress, or administration. Of late, adoption of food and clothes of other countries is on the rise. This indicates the impact of globalization of the economy and the society at large and at faster speed than ever before. The India culture also has been able to influence the culture of other society with its uniqueness in meeting social and psychological needs of the modern individuals and societies across the world with its tradition of family life and belongingness. The Indian culture is still adored as one of unique ways of finding happiness in life. Therefore, inculcation and revitalization of the traditional life may bring some relief in life under stress in modern days. We social workers need to establish the culture based social work practices like family therapy and community living to address poverty and ill health. 
World view of social work
History gives us enumerable selfless services to the vulnerable people worldwide for the cause of humanity. Elizabeth fry for her service to insane, John Howard for his contribution to crime and correctional administration with humane approaches are such examples of service to humanity. Florence Nightingale –the lady with the lamp, with her services to wounded soldiers in Crimean war is also another exemplary service to the victims. The western countries had been following the path of providing the social services to the poor and the needy on religious and spiritual ground. Since the journey of social work from charity to profession in the western countries it has focused on social justice and human rights at the core of its principles of practice with due consideration to individual worth and dignity. Concern for diversity and equality has taken the social workers a step ahead showing that the human service is the first step and the main thrust area of its intervention without any discrimination. While the dependency of person in need is not desirable but there should be some ways to render services in a sustainable means. The charity organization society took the lead to systematize the assistance to make people self-dependant with temporary assistance. The contributions of Friendly Visitors in assessing the needs of the poor and figure out the sustainable means of livelihood were highly appreciated and the need for further training of social workers was felt. The six weeks summer school for the Friendly Visitors organized by COS in 1898 in the USA is traced as the beginning of training of professional social workers. With the passage of time and change in the society and people, social work training is also changing at a faster speed but not as fast as the change is taking place in the knowledge, attitude, behavior and practice are changing. Over the period the universities and academic institutions in the USA and Europe introduced certificate, diploma and degree programme in social work. The effective dealing of trained social workers in the west were followed by the east with curriculum similar to them. The situation changed later on and many countries adopted their indigenous curriculum and training methods suiting to the social and cultural needs. Catching up with it, the institutes keep on changing its curriculum and the participation of the learners makes school and professionals successful. Therefore, world of social work practices are to be viewed from the following angles;
<![if !supportLists]>a. <![endif]>Humanism and concern for others
<![if !supportLists]>b. <![endif]>Social justice
<![if !supportLists]>c. <![endif]>Human rights
<![if !supportLists]>d. <![endif]>Respect for diversity
<![if !supportLists]>e. <![endif]>Dignity of worth of individual
<![if !supportLists]>f. <![endif]>Empowerment and development
<![if !supportLists]>g. <![endif]>Collective responsibility for common good
Humanism and concern for others is as old as human society is. It's a rationalist outlook or system of thought attaching prime importance to human rather than divine or supernatural matters. It is a Renaissance cultural movement which turned away from medieval scholasticism and revived interest in ancient Greek and Roman thought. Some contemporary writers described it as a system of thought criticized as being centered on the notion of the rational, autonomous self and ignoring the conditioned nature of the individual. According to Oxford dictionary<![if !supportFootnotes]>[16]<![endif]> humanism is a belief system based on the principle that people's spiritual and emotional needs can be satisfied without following the god or religion.
Thought process and action many times does not go parallel as perceiving and acting are two different issues relating to mind and body of a person. All the religions whether in the west of in the east says live and let live. Give and takes for each other's benefit and live peaceful and comfortable life. Humanism, therefore, emerged out of hearts of individuals for the concern of each other.  Lord Jesus Christ advocated love for the mankind which is an innate quality of each human being. Love thy neighbor and serve the poor was preached as a call for humanism against sufferings and atrocities of all human being without food, cloth and shelter. Gandhi believed that soul is immortal. One soul in comfort can bring in comforts to other soul, therefore, if one soul is pained the other soul is also pained, if even they are in comfort. Mahatma Gandhi used to believe and follow in this philosophy and succeed using this philosophy in many occasions while fighting against atrocities. It is also believed that the humanism has originated from all the religions which are being followed and practiced by different religious groups. Altruism is also similar to humanism as it is a concern for the welfare of others.
Social justice can be interpreted that relate justice to a reciprocal relationship to society are mediated by differences in cultural traditions, some of which emphasize the individual responsibility toward society and others the equilibrium between access to power and its responsible use.<![if !supportFootnotes]>[17]<![endif]> Hence, social justice is invoked today while reinterpreting historical figures, in philosophical debates about differences among human beings, in efforts for gender, racial and social equality, for advocating justice for migrants, prisoners, the environment, and the physically and developmentally disabled. It's an equality of status and opportunities in any given society where there is no discrimination of any form and all live with dignity.
Social justice in the world is widely talked about but rarely practiced and still we strive to ensure with available mechanism but beyond control. The powerful enjoy at the cost of powerless. The government and social order may have rules but it's always lopsided favoring the powerful. Where economic deprivation ends social discrimination remains on the basis of caste, colour, creed, and race. Similarly where the social discrimination ends the economic and religious discrimination remains. The Philadelphia declaration 1944 pledged to end injustices in any form with the slogan, 'Justice delayed is justice denied' remains in paper. Much discrimination are not reported and where if challenged in court the judicial authorities takes time to hear and decide the cases and award the decision in favour of the victims. A review of social justice systems and its application in developed, under developed, poor and developing countries shows that there are rampant discrimination across the world. The social workers voice on the discrimination does not reach the perpetuators as the strength of social workers is not strong enough to take it forward except in stray cases. The need of the hour is to organize the oppressed to fight for justice by teaching and practicing social action in Indian model to prevent and stop all sorts of injustices made by the state and individuals in power or perpetuators.
Human right is the pillar on which social work intervention rests. Right to live with essential needs fulfilled is not only the individual right but also a state responsibility and obligation of the citizens as done through the charitable and philanthropic organization and merchants across the globe. The Philadelphia declaration 1944, 'poverty anywhere is a danger to prosperity everywhere' was meant to end poverty from this earth but remains dream in spite of intervention by the UN organizations and each countries agenda for human development. Social work lately adopted rights based approaches in its intervention at the individual, group and community level. Social workers today have to play a significant role in protecting the rights of the people calling for a social action against all that are unjust. 'The rise has been spearheaded by growing awareness that human rights may be the most effective way to reduce or eradicate poverty and injustice while advancing human dignity and welfare. The profession of social work has played a major role in issues of welfare and human rights. In fact, at the core of social work is the "intrinsic" value of every person and the mandate to promote social justice while upholding human dignity. It is also reflected in the professions code of ethics and ethical responsibilities to the broader society (NASW, 1999). This entry reviews the basic underpinnings of the rights-based discourse as it relates to programming and assessment. An historical overview is presented. Approaches to rights-based programming along with tools supporting the approach are highlighted. Areas of intersection between social work and rights-based programming are also identified'.<![if !supportFootnotes]>[18]<![endif]> Many civil society organizations, Non-Govt. and charitable organizations are now engaged in applying right based approach with the objectives of holistic social development of the vulnerable population. Social work and human rights are two sides of the same coin and has to be used simultaneously applying the person in environment approach.
Respect for diversity
It means understanding that each individual is unique, and recognizing our individual differences. These can be along the dimensions of race, ethnicity, gender, sexual orientation, socio-economic status, age, physical abilities, religious beliefs, political beliefs, or other ideologies. Respecting diversity means treating people equally, based only on characteristic that relate to how they do their job. This means treating people equally during recruitment, in the role, and once they have left or separated. Respecting diversity also means recognizing and valuing the differences between people in terms their colour, creed, race or ethnicity and treating them as equal in human society without curtailing their eligibility for fair and just treatment.  
The global agenda for social work profession today is the acceptance of diverse populations in need of service to maintain a good quality of life without any discrimination. India is one of such countries which put up unity in diversity with thousands of language, culture and life style of the citizens. Acceptance of people of other countries and cultures has been the longest tradition since Aryan civilization. Other developed countries of the world have accepted the immigrants and management people of diverse groups. Presently, almost all the developed countries have now sealed the boundaries restricting permanent immigration. International Federation of Social Workers (IFSW) and IASSW have a common agenda to manage diverse groups with unique issues and problems they encounter in varied contexts and situations. However, India with its tradition of respect for diversity and toleration continues to support all the diverse groups and striving to establish social justice and human rights among the diverse population. 
Dignity and worth of individual
The core value and principle of social work profession today is based on dignity of worth of individuals irrespective of their background and status in the society. Global social work practice upholds and promotes individuals with this conviction that each individual is potential and can contribute to their best for self and others welfare and development. Suffering from inadequacies of life is the failure on the part of the individuals and society. It is the conviction of social workers that these situations could be overcome with effort of the individual by channelizing their potentialities and support from the state and other benevolent organizations. The social workers during their training are taught to have self-respect and highest respect for a person to serve him or her with utmost diligence. Self-respect helps in inculcating respect for other persons and enhances self-confidence. Social workers respect the inherent dignity and worth of the person. Social workers treat people in a caring and respectful fashion, mindful of individual differences and cultural and ethnic diversity. Social workers promote clients` socially responsible self-determination. Eventually the dignity and worth of a person is highly valued all over the world and India as core values of social work profession. Service to others without this value is not sustainable and practicable. If we want to give we must give it with respect.
Empowerment and development
The term empowerment refers to measures designed to increase the degree of autonomy and self-determination in people and in communities in order to enable them to represent their interests in a responsible and self-determined way, acting on their own authority. Amartya Sen's capability approach to human welfare recognizes the impact of social institutions on human capabilities. But as an evaluative framework, it does not analyze the role of institutionalized power in causing or perpetuating inequalities in individual opportunities to achieve. Drawing on authors who are receptive to the capability approach and who have examined the political aspects of advancing human capabilities. This presents a view of social power and its exercise that is congruent with the capability approach. This examination of power continues the exploration of intergroup relationships that Prof. Amartya Sen has advocated, and it can be expected to yield new criteria for policy evaluation as well as new policy option.<![if !supportFootnotes]>[19]<![endif]> The global definition of social work states the empowerment and development concept in its approaches to deliver services taking into ideology of sustainable development. Short term development initiatives on the part of civil societies and the governments found to be futile as it creates more dependency than self-sufficiency. India today is few hundred years behind the western countries as far as sustainable development of the people is concerned. Now-a-days we in India promote more charity as a political agenda to win votes instead of making some truly sustainable development efforts. This is leading to dependency of the people on the state and non-government organizations. Recently, in India the paradigm of development has been shifted from 'trickle down' to 'bottom up approach' with the expectations that people's participation and involvement in empowering themselves will be sustainable as they will be one of the stakeholders of holistic development. The most important development we need at the moment is positivity in our attitude, depth in knowledge, sensible behavior and right conduct which does not harm people and the environment. 
Collective responsibility for common good
In ancient times when the people lived in groups all their action were directed towards a common benefit for all the members living together. Most of the tasks were common in nature as it affected them all. Greek philosophers Plato (427-347 BCE) and Aristotle (384-322 BCE) have spoken about 'public good' or 'common good' and established their doctrine.  In India Kautilya's Arthasastra (350-275 BCE) described about issues of common welfare where each individual living in groups or communities must participate in all the common programmes in the interest of public welfare.<![if !supportFootnotes]>[20]<![endif]> Tagore and Gandhi at the beginning of the 20th century stressed on the public welfare through collective action. Cooperatives formed with the beneficiary collectively made organizations of their own for them. During the last two decades Prof. Amartya Sen has talked about 'collective choice and social welfare' where common good needs plurality in its approach. In fact, where collective action has been organized scientifically, the result is encouraging. The state intervention on welfare started crippling the collective action from and within the community. Still we have a ray of hope with encouraging results of some collective action for the benefit of community and state at large. The social work interventions in the west are largely based on micro and mezzo level which in the contrary in India the focus is on macro level. Securing the common good means putting the public interest above narrow self-interest and group demands; working to achieve social and economic conditions that benefit everyone; promoting a personal, governmental and corporate ethic of responsibility and service to others; creating a more open and honest governmental and non governmental agencies to deliver with physical and emotional involvement. India has the longest tradition of collective action for common good as inscribed in the Kautilya's Arthasastra (work on economics and politics). The document further established the duties of the citizens living in the kingdom.
National Association of Social Workers, USA, adopted Cultural Competence and Social Diversity which reads as follows:
'Social workers should understand culture and its function in human behavior and society, recognizing the strengths that exist in all cultures. Cultural competence in social work practice implies a heightened consciousness of how culturally diverse populations experience their uniqueness and deal with their differences and similarities within a larger social context. The achievement of cultural competence is an ongoing process'.<![if !supportFootnotes]>[21]<![endif]> It means that social work practice has to be culture specific and its application may use the strength of the inbuilt cultural components. As discussed in the introductory part of the article India has ample opportunities to use the strength of its social and cultural practices including social customs to resolve the issues at the individual, family and community level. The need is obviously development of indigenous literature and application of the same for the benefit of the common.
Conclusion
The discussions above reveals that India by virtue of its cultural heritage it had, and to some extent still has the provision of social services inbuilt in its social systems. Bringing back any such cultural traditions may seem impossible in modern age but values and ethics can be brought in back to its tract on a long term goal from the new births of citizens in the country. As far as culture is concerned India is the parent of social service and social work and never imported from the western world except the modern curriculum and literature that are being taught and published from western world which may not suit the Indian social and cultural contexts. Social service in Indian is an act of religious merit and social responsibility which was existent much before the Christ era whereas the charity and philanthropy came up in the west in post Christ era. The formal training of social workers began in India four decades later than the west following the western pattern of curriculum. One can argue with the Gautama Buddha's example as training for social worker though not formally but can be justified with reference to the professional requirements.
While the world view of social work is taken up we do not find differences in its approach and interventions except the cultural and social context in which intervention is made. Issues and problems may vary but consideration of dignity and worth of individual, social justice, human rights, and respect for diversity remains unaltered in its philosophy and methods of applications. The question of indignations is the focus of all the countries, many of whom have adopted the practice of social work contextualizing to the people and their needs. If India has taken the literature from the west to enrich its knowledge base, it has contributed to the knowledge base of the west with its rich cultural and social heritage. Tagore in his experiment in rural reconstruction at Sriniketan in the early 20th century appointed village workers and center workers whom he termed as 'Viswakarma' the 'world worker'- could be compared to the social worker. The primary duties of these workers were to find the strength and resources of the community, educate and empower them with organization at the grassroots level for their development. Bhartiyakaran (Indinisation) of social work education and training needs research and innovation in resolving social issues and problems at all the levels of intervention. Early efforts in this direction made by professional social workers like Prof. M.S.Gore, Prof. G.R. Banerjee, Prof. A.R.Wadia, Prof. Shankar Pathak, Prof. Gangrade, Prof. Kulkarni and many others needs mention but these are too little to meet the vast needs of fast ever changing society and a socio-political milieu. The people and society is changing with the advancement of technology, therefore, we cannot afford to stay behind. The way all changes in society is going through needs immediate attention, specially for the new generation youths and chalk out a strategy to prevent many social ills that are likely to crop up in future.
It is suggested that all the schools, institutes and colleges of social work starts documenting all the intervention they make and pick up some evidences of effective practice for dissemination and updating the knowledge gap we will be in position to shift to Bharatiakaran breaking the western way intervention in India.  
That the curriculum we teach need to suit to meet the essential knowledge and its application. Fieldwork practice should not be limited to office hours but go beyond the boundaries of the office hours to the community and try to establish some impact of intervention failing which fieldwork training will remain incomplete.
The establishment of one social work council to regulate and control the quality of training being imparted and coordinating all the social work institutes and their intervention for public good. Coordination and cooperation among the faculty and learners through one platform on democratic principles is much more important at this juncture as quality of social work education in this country is in stake. Cultural competence, in brief, is the ability to interact effectively with people from different cultures. This ability depends on awareness of one's own cultural worldview, knowledge of other cultural practices and worldviews, tolerant attitudes towards cultural differences, and cross-cultural skills. India is a country with varied cultures and people. It is therefore, essential that the culture specific training is imparted to the social work professionals. Difficult though but it's not impossible task. In Japan about four decades ago when the Japanese students and faculties of social work resisted the western social work education were compelled to introduce their culture specific training in social work, eventually making the social work practice culture specific and effective for the citizens of the country. In India too, the faculties of social work need to streamline social work education and training indigenous suiting to its cultural strength and eliminate western bias interventions, most of which fails in achieving the desired goals.
References:
<![if !supportFootnotes]>[1]<![endif]> Gore, M.S. Seminar paper presented at the conference organized by the Council of Social Work Education and The East West Center, February 21 –March 4, 1966, Honolulu, Hawaii
2. Pathak, Shankar, Social Work and Social Welfare, P- 35, Niruta Publications, 2012, Bangalore.
3 G.R.Banerjee, Social Work Forum, Vol. VII, No. 4, TISS. January, 1970.
4 Swami Vivekananda,
6 Clifford Manshardt, Social Work during the British Period in India,
7 The Oxford Dictionary, Oxford University Press
9 Margaret Lombe, Rights-based Framework and Social Work, National Association of Social Work, Oxford University Press, 2013.
12 National Association of Social Worker, United States of America, Oxford University Press, 2013.
INTEGRAL HUMANISM AND SOCIAL WORK
Prof. Ranjana Sehgal
Introduction
                                       In a diverse, multicultural, urbanized, global, and technology-oriented society, we need to prepare social workers who will shape solutions to a wide range of inter-personal and psycho-social problems. Contemporary Social Work is going through a critical phase in India, which superficially manifests itself in the quantitative increase of students' applying for social work degree on one hand and on the other is palpable in the declining quality of training at university levels. Undeniably, social work has failed to take roots as anticipated, and evolve akin to other professions like medicine, law etc. in India and is still in search of an identity as a distinct profession. Ironically even today people are not able to distinguish between a psychologist, sociologist or a social worker. Inherent contradictions plague social work discipline and it faces challenges, which cannot be swept under the carpet anymore. We have to introspect as to why, despite so many trained social workers being churned out from the portals of various institutes and universities, there is miniscule presence and demand for trained social workers, especially at policy and planning levels. There is a dire need to redesign our training module so as to offer uniqueness unmatched by other allied professions in tackling the psycho-social human issues. It is high time Social work educators looked through the macro and micro lens at the Indian experience and legacy and converged it with social work knowledge, ethics and values.
The doctrine of Integral Humanism, pioneered by late Pt. Deendayal Upadhyaya is, but one of the many indigenous contributions of our seers and philosophers to the world at large, which need to be highlighted, and accorded a prominent place in our curriculum, alongside the western approaches. There is scant focus on it, and the students remain unexposed to its fundamental precepts. Integral Humanism, embodies a vision of development on the fundamental premise that man's relationship to society and nature is integral and complementary. The underlying thoughts of this doctrine and its relevance to contemporary Indian context, is the focus of this paper, with an added emphasis on the need of its convergence in social work curriculum. It is my desire that this paper serves as a vehicle for helping young social workers appreciate and understand some of the problems which confront their own 'tribe' and chalk out a plan to address them.  The responsibility squarely lies on our experienced shoulders to prepare a young brigade of professional social workers with innovative ways of thinking and styles of functioning drawing inspiration from the Bhartiya thoughts.  
Looking Beyond the Hegemony of Euro-Isms
All isms be it capitalism, communism, socialism or even nationalism, for that matter, had glaring drawbacks and failed to deliver on ground, as they were not relevant in universal time and space. "With the dawn of the Cold War politics, a strong ideological war divided the world into two capitalistic and socialistic blocks. We saw how the inherently flawed model of socialism led to concentration of power in the hands of a few elites, thus giving rise to one of the worst dictators of all times. This in effect completely devastated the economies of the so-called socialist states. On the other hand, we have had these capitalist states, where unabated consumerism and individualistic thinking led to glaring inequalities, demise of collective thinking and family values, evasion of safety nets – all ultimately leading up to the global crisis of 2008. Similar was the case of India whose foundations were laid on the ill-suited Western notions of development….At the time when India had gained independence, ideas of socialism had given undue focus on statist monopolies, license raj, and appeasement politics leading to fissiparous tendencies and an inferiority complex towards everything that was "old" or "Bharatiya" in origin. …It was in the wake of these, that Pt. Deendayal presented an alternative vision of integral humanism, tracing its origin to the non-dualistic philosophy of Advaita Vedanta, wherein he propagated the oneness of various souls, be it of human, animal or plant origin". (Awasthi, 2017 ) Our goal to build India on the socialistic development model left us floundering and only ended up giving us bureaucratic five year plans and centralization of power.
Deendayal ji's ideas of Integral Humanism were in perfect harmony with those of Swami Vivekanand, Shri Aurbindo, Gandhi Ji and Baba Ambedkar and  is one of the most valuable contribution to mankind. Those deeply involved in the make-and-break politics may mistake Panditji's Integral Humanism as a new 'ism' or doctrine or dogma propounded by him in order to counter all other prevailing 'isms' or to add a new one. It is all too well-known that prophets of an 'ism' or a new political thought claim originality. It is more so in the West. A slight deviation or difference with the current thought entitles one to proclaim himself the founder of a new doctrine. But no such thought ever crossed Pandit ji's mind. As a true votary of culture, he was not given to this narrowness. He believed in what Bhagwan Sri Krishna said in the Gita that true knowledge is timeless. One may observe some variation in its expressed form owing to varied situations and conditions but that does not mean the creation of new knowledge. Pandit ji, through his creative ability and positive outlook put a new gloss on the true and eternal thought and reinterpreted it to suit the changed and contemporary world. It would be clear, therefore, that integral humanism was conceived only to perfect 'isms' so that they could meet the challenges posed to them. It was farthest from his thought to add to the ideological bitterness obtaining in the society by outright rejection or repudiation of any of the contemporary ideas, ism or viewpoints while expressing his own.…..In other words, western ideologies lack eternality, finality and durability. They are used to thinking in bits and grooves, with the result that the ideologies of the west instead of being positive are reactionary in nature. They lacked the capacity to harmonize the various desirable goals relating to a society and to a period of time. (Integral Humanism, A study, 1992) Deendayal ji was of the view that it is neither practical nor wise to adopt foreign 'isms' in India, and abandoning the artificial constructs of right and left, work for achieving the ultimate goal of Antyodaya.
The Western world view is mechanical, fragmented, hence has no place for compassion. "Whatever little happiness men in different countries enjoyed is now vanishing due to urbanisation and industrialisation. Mechanical industrialisation has given dynamism to life but not without depriving it of its fellow feeling and compassion. The moral and spiritual values have declined; life has become money oriented instead of values oriented." (Nene) We cannot adopt this mechanical approach as it will make us lose all our compassion. Our world view is integral, humanistic, which albeit, once branded as unscientific, is now gaining acceptance.  We have to change the western world view, to the Bhartiya view and not the other way around, as our world view is holistic and integrated, and believes in an unbroken wholeness of man. As rightly said by Pt Deendayal "After taking into account the the strong and weak points of all earlier theories and how far they have succeeded in practice, Integral Humanism shows a definite path which will lead man onto progress, prosperity and happiness". (Pt. DeenDayal) 'Deendayal ji believed that democracy in India is not a gift of the West and held a firm view that Indian polity after independence has been raised upon artificial Western foundations, hence not rooted in the timeless traditions of India's ancient culture. He was sure that the Indian intellect was getting suffocated by Western theories and ideologies and consequently there was a big roadblock on the growth and expansion of original Bhartiya thought. He hailed modern technology/science but wanted it to be adapted to suit Indian requirements, he believed in a constructive approach. He exhorted his followers to co-operate with the government when it was right and fearlessly oppose it, when it erred. He placed nation's interests above everything else. Another key theme of his philosophy was enlightened self-interest of Indian people which meant that we achieve the best for ourselves without harming the interests of others.' (Krishna Gopal, 2016) Deendayal ji firmly believed in an Indic centric world view rather than blindly aping the Euro-centric view. As against the view of man as an economic animal and Freudian view that man's ultimate goal is to fulfil his desires Integral Humanism conceives of a society free from all discrimination, disease and want, which  undoubtedly should be our goal in Social Work. The Indian academia, needs to focus on Deendayal ji's vision and explore how to incorporate it into Social Work philosophy, because of its quintessential importance to Indian thought.
Revisiting Pt. Deen Dayal's Doctrine of Integral Humanism
Initially western thoughts totally dominated the Indian academic discussions, but Dindayal ji objected to this discourse and was instrumental in shifting the focus back to Bhartiya context. According to him, social transformation and development cannot take place by imitating western concepts. All the institutions which are based on western thoughts are fragmented, unrelated, unconcerned, and irrelevant. We have been unnecessarily carrying this baggage over the years. Our problems are ours and their solutions will also have to be found from our soil and culture, hence we have to return to our culture and tradition before it is too late. Pt. Deendayal advocated the swadeshi way of life like Gandhi ji, and sought a culturally authentic mode of modernization based on harmony with nature and self-discipline on one hand, and preservation of Indian ethos and tradition on the other. He gave a new and broader perspective to Gandhi's concept of swadeshi and rural development by his doctrine of Integral Humanism, 'Gandhi tried to build an undivided rural society, whereas Upadhyaya gave the theory of Integral Humanism to build an undivided universal society. This concept is a broader concept, which covers both rural and urban, or we may say that which covers the human society as a whole. "This concept does not divide the humanity into parts but considers it as a unit which co exists with the whole humanity…… that DeenDayal Upadhyay's philosophy got ignored somehow, but it was as important and significant as the Swaraj concept of Gandhi ji. …while Hind Swaraj and Gandhian thought have been taken up for serious study in academia, there has been very little discussion of another manifesto for decolonisation, which was delivered as a lecture, 50 years ago by an unassuming thinker, who, respectfully acknowledged Hind Swaraj right at the beginning.' (Singh, et al, 2016)
The moot question is that how far this model is relevant even in this period of  liberalization, globalization and privatization especially on a practical basis? The answer is that in such a time, the philosophy of Pt. Deendayal is more relevant and necessary than ever before. Standing at cross roads today, there is a dire need to take inspiration from his idea of Integral Humanism, as it isn't a mere ideology represented by an 'ism, rather, the essence of its philosophy goes much deeper. It is a holistic system of total harmony between individual, society and nature in which man has a comprehensive view of the four purusharthas of dharma, artha, kaam and moksha. Spirituality, integrity, openness to change and an all-encompassing holistic approach are its key themes, where all human beings are identified as part of one organic whole, sharing a common consciousness of national thought, with no divisions based on race, colour, caste or religion.  What is 'human' we have still not understood. Sociologists say man is social animal, political science says he is political animal, so on and so forth, but the doctrine of Integral Humanism says man is a complete human and all his four elements should be satisfied, then only he will be happy and our social system should provide for it. All the elements are interconnected and we believe in unity in diversity. We are providing for the physical body but not for the mind, as today there is no love and compassion.
 

"Deendayal Ji's Integral Humanism is a holistic philosophy of our times and not merely an ideology meant to be used in a particular time and situation." (Mukul Kanitkar) "The idea of Integral Humanism isn't a mere 'ism' like many contemporary thoughts. His thought has both an ideological as well as practical panache ...

  

Indian mind comprehends the human being as a 'purusha' who is all encompassing. It is man who makes society and that becomes a nation. It is these nations that finally constitute the world…This integrity of human existence is what constitutes the essence of Integral Humanism of Deendayal Ji. (Bhatt) (Integral Humanism in Indian Thought, 2016) 
For convenient understanding, the basic tenets of DeenDayal Ji's Integral Humanism, the origins of which can be traced to the timeless traditions of Indian culture can be summarised as follows:
<![if !supportLists]>1. <![endif]>There is the oneness of various souls, be it of human, animal or plant.
<![if !supportLists]>2. <![endif]>Humankind has four hierarchical organic attributes of body, mind, intellect and soul which correspond to 4 universal objectives i.e karma (desire and satisfaction), arth (wealth), dharma (moral duties) and moksh (total liberation or salvation) Dharma is the basic and Moksh the ultimate object of mankind and society.
<![if !supportLists]>3. <![endif]>The base of Integral humanism is Dharma, which is not religion as understood in the West, but a principle of universal harmony. It creates harmony where there is natural dissension. We observe Dharma, which is protected by us and in return Dharma protects us. Therefore, it is said that "Dharmo Rakshati Rakshitah." We need to reject the individualization of modern society in favour of dharma based community. (Vaidya, 2013)
<![if !supportLists]>4. <![endif]>Reject the individualization of modern society in favour of dharma based community. The theory of individualism and social systems in which individualism 'reigns supreme' needs to be rejected, instead the importance of family and community needs to be promoted. Society, rather than arising from a social contract between individuals, is fully born at its inception itself as a natural living organism with a definitive 'national soul' or 'ethos'.
<![if !supportLists]>5. <![endif]>Dharma is like a moral compass, which unifies the national polity, economy and society. Thus, the philosophy of integral humanism imagines this common thread called "Dharma" to act like an intrinsic guiding principle for the state, which leads to political and social empowerment of all and penetration of economic benefits unto the last man/woman (antyodya). Dharma is the substratum of all our social, economic and political institutions.  Conditions have to be created, so that all men can play their role effectively in all the institutions.
<![if !supportLists]>6. <![endif]> Western values that are good need to be given due respect, but Dharma and not western ideologies should become our base as Dharma advocates the middle path. Man the highest creation of God is not seen as an individual identity, but as a member of many institutions.
<![if !supportLists]>7. <![endif]>State, society and economy should work in harmony and complement each other. The power of the State is effective only when it has the support of Dharma. And in return, the Dharma gets its sustenance from the power of the state.  As in the case of State, so in all spheres of human activity, State should not only control, but also give good governance. It should be neither too liberal nor too strict.
<![if !supportLists]>8. <![endif]> Traditions should not be rejected outright. Culture is not related to mode of worship or sect; instead it is related to the country's tradition. In India we all belong to only one culture, which is neither the Hindu, Muslim or Christian culture but the Indian or "Bharatiya" culture. We have to protect our culture and vitalise it, else we will not be able to achieve our full potential.
<![if !supportLists]>9. <![endif]>There isn't any minority in this nation. Just like how the human body has one nose and two eyes, but that does not relegate the nose to the position of a minority. Similarly, various religious and social communities exist as an organic whole, very much like the parts of the same body.
<![if !supportLists]>10. <![endif]>The reason we stand divided along religion and caste can be attributed to the absence of a national identity.
<![if !supportLists]>11. <![endif]>The theory and practice of social work profession in India can be fortified by converging the tenets of Indic doctrines such as 'Integral Humanism' into ways to deal with political, social, economic and religious challenges that our country faces. Here is an attempt to know more about integral humanism and understand it's relevance to social work theory and practice in the contemporary socio-economic-political context.
Converging 'Integral Humanism' with Social Work Paradigm 
    Social worker is not a follower, but also a creator of his own skill and craft based on demands and needs of the time, and social work in any country has to build its own identity, based on the psycho-social, political contexts in which it is practiced. Western literature and thought has produced the theory and practice of current social work paradigm based on their contexts, but our geo-political and socio-economic contexts are unique and different from the rest of the world, hence, we have to build theories, techniques, methods, skills more suited to our realities. As Social Work is a value based profession there is a need to inculcate in social workers, Bhartiya   rather than Western values. As social work educators we need to appreciate the practical usefulness of applying original Bharatiya thought to address some of the contemporary problems- political, psychological, social and economic. Multi-dimensional indigenous approaches need to be developed to equip the social workers with the requisite knowledge and skills along with liberty to plan and implement and customize our services as per our needs. Understanding and interpreting the Indic doctrines, and incorporating them into social work theory and practice can bring effective outcomes in the direction of achieving goals of human development and social inclusion as required.
'Pt. Deendayal's 'Ekatma Manava Darshan' has been the source of ideological guidance and moral inspiration to many social activists and political leaders. 'Integral Humanism', is a critique of both communism and capitalism, advocating a holistic alternative perspective for political action and statecraft, consistent with the laws of creation and the universal needs of the human race. Deendayal ji was a great advocate of indigenous economics & administration models.' (India Arise) Unfortunately, the recent trend of discarding all that is indigenous as unworthy of possession, goes against his teachings. Rather than branding these philosophies as outdated, our endeavour should be to understand and explore the possibilities for converging them with the social work paradigm. To begin with, let us discuss about integral humanism as a base for building Indic models of social work practice.
Political Context
 Pt Deendayal's teachings are more relevant than ever before, especially so when dynastic politics and focus on individual characteristics has started to dominate the political discourse. Development and not dynasty should become a parameter to evaluate the performance of the politicians. Most political parties have only paid lip service to the cause of disadvantaged social communities, which is our primary concern in social work and the socially and historically marginalised are getting embroiled deeper into identity wars, adding no value to their lives.  Doctrine of Integral humanism identifies all human beings as part of one organic whole, sharing a common consciousness of national thought, which put into a political perspective, either then or now, means that Hindus, Muslims, Christians and the people of all faiths and sects are essentially one and that their intrinsic unity should be based on this common consciousness of "Rashtriyata." He opposed those pandering to "appeasement politics" which had ripped up the differences between Indian Hindus and Indian Muslims solely on the basis of their religious identities, only to carve out a separate nation later. Instead of identifying the two communities as a product of a single "Bharatiya" thought, their religious differences are used by the political parties to drive a deep wedge between the two communities, the seeds of which have given rise to communal hatred, failures in national security and terrorism. This is in absolute disregard of our Indian ethos of 'Vasudeva kutumbhkama'.
Ecological Concerns
Unlike the West, where man is sovereign over nature and all that exists is made for his consumption, in Indic thought man and nature are integral and complementary to each other. The human society is required to show the same respect for the Nature (Srishti) of which it is a part. The Hindu thought has raised this sense of respect to the highest pitch by calling it "Mother" (Matri). Nature is not a lifeless, emotionless outsider, rather a living entity and as respectable and loving as a mother. Therefore, nature is Srishtimata, earth is Bhoomata, the river is "lokamata", the Cow is "Gomata", the river Ganga is "Gangamaiyya", even the Tulsiplant is "Tulsimaiyya .
Economic Context
               

As we know, usually two western models of economy are discussed the world over-one the capitalist and second communist. The foundation of

  

the world order is still largely based on these two models of which the communist, who believe capital

  

to be the root cause of all problems, are almost on the verge of extinction. After the disintegration of the Soviet Russia,

  

there is no part of the world

  

we can say where

  

this model is said to have really survived or this system is alive.

  

China is rapidly developing itself, and but strangely still calls itself communist,

  

otherwise, the speed

  

at with which it has embraced capitalism and amassed wealth and laid the foundations of its development is there for all to see.
               

In India our five-year planning models almost ignored the need for mass employment generation, self-sustaining agricultural production, skill based and vernacular education and rural development, which were important part of Integral Humanism. Pt Deendayal rejected this Western model of 'statism' and celebrated liberal notions of individual liberty within the broader realm of collective moral responsibility. To him goes the credit of developing an economic model based on Indian ideology, in accordance with Indian needs, philosophy and ethos.

  

In his doctrine of 'Integral Humanism', he talks of a humanitarian economic philosophy which

  

purely reflects the cultural philosophies of India and Indianism, in accordance with the ideas described in 'Sanatan Wangmaya' He was of the view that there is only one nation and conceived the idea of a "national sector".

 That State will do everything, according to him, was not right approach. 

Economists, too are now advocating for a public private partnership (PPP) model worldwide. In his view, right to work and safety net for the disadvantaged went hand in hand with economic entrepreneurship. 
To give another instance of his practical economic logic, he opposed the centralisation of ownership which according to him leads to corruption and hoarding of commodities. In very simple terms, he wanted self-sustenance in agricultural production, but was dead against unnecessary hoarding of stocks that lead to the distortion of market, artificial inflation in prices and generation of black money. In the current context where there is a visible agrarian distress and farmer suicides are on the rise, self-sustenance in agriculture is the need of the hour. The present government is trying to gradually bring the ideas of Pt. Deendayal into its governance and policies. The move by the Food Corporation of India to rationalise the stocks that it had been hoarding in the previous regimes, speaks volumes of the practical applications for this philosophy even in the current era.
In Deendayal's idea of development, undivided by caste or creed, people are willing to work hard, and be masters of their own destiny, and each citizen is an agent of economic change and productivity, working together as a single well-oiled machinery. He envisaged India as one united nation, where every citizen gets an equal share of opportunities and where merit and hard work is respected. We share the vision of our Rishis, the vision of "Krinvanto Vishwam Aryam"( let us make this world a noble place)
Social Context
Social is all about relationships, and for understanding man in relation to his environment at micro and macro level, Pt Deendayal's holistic and integral point of view is very much needed, especially, in today's context where our society is being disrupted and divided along caste, class and religious lines for political gains. We need to reject the emancipatory model of social change, as it is disrupting our wellbeing. Change is needed but it cannot be brought about by picking up guns as naxalism propagates We cannot destroy our social institutions in the name of social activism. The disruptive approach of communism has failed all over. We are not against emancipation, but neglecting family and community and ignoring the day to day concerns by only talking of an imaginary Utopian society is not the right pragmatic approach and experience has shown that this idealism is not working on the ground.
To keep the western model and socialistic pattern as ideal has not worked anywhere in the world and it will not work. In following these Western models, we have somehow alienated ourselves from our Indian cultural, philosophical and intellectual tradition. As against this, Integral Humanism, underlines interdependence of nature, state, society, family and individual, which we cannot ignore. Time has come to shift the focus back to Indian practices and perspectives and reject the emancipatory model, the social change model as we do not want to make our trainees as social activists, as activists tend to be disruptive, if they advocate to destroy existing structures, nothing will remain of society. Social worker cannot be a radical activist ignoring individual and family wellbeing. We social workers have to be constructive not destructive, we create, not destroy.
Religious Context
When we are human integrals, Dharma should guide all our relations at all levels be it individual, family and community or be it our relations with nature. Dharma or Ramrajya both have a very "secular" interpretation and all the sceptics, need to know that the notion of 'Dharma' is very different from the Western understanding of "religion". Looking at the society from the point of view of westerners is as if ours is a medieval society, but we have to see our society from our angle, from our lens and not theirs. Thinking of nation before self is dharma. Their idea that establishment is bad is itself not acceptable to us. Our approach of Integral Humanism will work both at micro as well as macro level, as what we need is a holistic, integral perspective of society and state. Indic eternals of 'Satyam' and 'Dharmam' need to be reinforced as core values of social work.
 Reinforcing Indic context into Social Work Curriculum
Unfortunately, there are still no qualifying standards for the profession of Social Work and, we in India not only need to restructure our curriculum, but also redesign and repackage our core competencies as per our indigenous needs. We need to carry out research work and action program on specific Indian ideologies, such as Integral Humanism rather than blindly following Euro-centic models. "if the country has been divided because of the lack of feeling of unity, the restoration of that feeling will make it united again. How shall we recover our lost intellectual freedom? By reversing, for the time being, the process by which we lost it, by liberating our minds in all subjects from the thraldom to authority. The Anglicized ask us to abandon authority, revolt against superstition, to have free minds. What they mean is that we should renounce authority of the Vedas for Max Muller, the Monism of Sanskara for the Monism of Haeckel, the dogmatisms of Pandits for the dogmatisms of European thinkers, scientists and scholars. Let us break our chains in order to be free, in the name of truth, not in the name of Europe. Our first necessity, if India is to survive and do her appointed work in the world, is that the youth of India should learn to think, to think on all subjects, to think independently, fruitfully, going to the heart of things, not stopped by their surface, free of prejudgments, shearing sophism and prejudice asunder as with a sharp sword, smiting down obscurantism of all kinds". (Sri Aurobindo)
A contempt that has developed for all that is Bhartiya needs to be rejected outright. The philosophy of integral humanism is perfectly compliant with the modern notions of social work, democracy, social equality and human rights. Despite, being true followers of Indian thought, we are ready and willing to assimilate what best the West has to offer like the use of IT, industrial expertise and dignity of labour but the Western model of development is not the only model. As citizens of this country let us realize the practical usefulness of applying original Bhartiya thought to social work paradigm, and appreciate the value and potential power of our indigenous knowledge. Taking forward Deendayal's doctrine of Integral Humanism, we can produce social work experts in all domains, especially in the field of social and economic policy so as to effectively and holistically address the problems of today and the distant future. Our model of development, with the right mix of ideology, values and scientific knowledge will guide today's young India to write their own destinies, where even the weakest Indian has a just and fair chance of making it big through sheer dedication and determination. We have to change at an individual level, but with an integral perspective of society, state and nature. We are talking of change without changing ourselves, which is harmful. It cannot be that social workers will change society without changing themselves. Even when we talk of rights based approach, rights have to come with responsibility. While the Rights perspective are tearing apart families, societies, the Dharma perspective of Integral Humanism will help us to build better relations, and consequently a better society. The reality is that Indian social workers have used the Euro-centric models, methods, technique, and skills of treating their clients for nearly 82 years, but this has not produced the desired outcomes as expected and desired. Alternative models of practice have to emerge from our soil for addressing the social concerns of our people. If we aspire to put our profession on a higher pedestal, our endeavours should be embedded in Indian reality. We have to construct a model of Indian Social work where there is a convergence of Indian thought and compassion with professionalism of the West.
Without knowledge of tradition, spirituality, culture and lessons from our rich cultural past we cannot bridge the gap between social work theory and practice in India. India will take its rightful place in the world community only when we weave Indic knowledge and culture into our curriculum. Pt. Deendayal's teachings, especially his philosophy of integral humanism, are perfectly in line with the inclusive model of integrated social work practice, what we need to work on right now is the mechanisms to assimilate his tenets into theory and practice of social work. Being followers of Indian thought, we need to develop an indigenous model of social work education and training which will transform Bharat into a unified self-reliant and compassionate example for the world to emulate. We are not averse to what the West has to offer, but Bharat once called the 'Golden Bird' because of its indigenous production base and self-reliance needs to adopt such policies that put us back on the path of self-reliance.
CONCLUSION
There must have been something fundamentally wrong in the way we transplanted social work discipline on our soil, for it to have not bloomed, despite its early roots nearly eighty-two years ago. Strangely, despite having greater acceptance and popularity as a discipline, social work has failed to create a niche for itself, with its unique quality steadily waning and the reason is not far to seek. As Social Work had its origins in European culture and philosophy, it remained distant from Indian cultural, philosophical and intellectual base, and we continue to look at our social life through an outsiders' perspective. The function of social work profession at any point of time has to be responsive to the social conditions and the needs of a country of it's practice, as this will determine what should be included or excluded from its range of activities. It is imperative that we return to our Bhartiya roots to enrich our social work profession, and make it relevant to our contemporary needs and realities. Indigenous focus will help revive the glory of social work as an integrated holistic discipline colored in our own tradition, spirituality, and culture. We need to deftly weave the weft of unique threads of Indic philosophy and approaches into the warp imported from western culture, to create a unique fabric suited to Indian socio-economic climate. Time has come to embrace lessons from our glorious rich cultural past and integrate them into our existing curriculum. We need to reach out to the youth of our country and spread awareness regarding the rich cultural heritage of Bharat exploring all sources of Indian wisdom.
Although much has been written about the theory of social work, very little is available        on Bhartiya modules and Indic perspectives of social work practice, which should have been the mainstay to address our people's problems and struggles at various levels. The insights gained from Indic thoughts such as 'integral humanism' can lead to the conceptualization of our social work theory and practice on stronger footing. Pandit Ji provided us the extract of knowledge and wisdom. His thoughts are culmination of different views and knowledge from Vedas to Vivekanand. Integral humanism builds on an organic thought, where it imagines an Indian nation, where all citizens identify themselves as a part of the same Indian ethos, where we modernise but do not Westernise, where we have individual economic liberty but that which is coupled with Dharma, and where we transcend group consciousness as members of different religious and social communities to develop a common national consciousness. The changes are fundamental and basic and if adopted in the right spirit can put Bhartiya Social Work on a trajectory of growth hitherto unseen. This can be made possible with indigenous production of social work literature with an insider's perspective, which is scientific and evidence based. In fact, the factors inhibiting bhartiyakaran of social work have to be identified, systematically studied, and subsequently addressed so that this movement of Bhartiyakaran of social work brings concrete and substantive changes in our course content.
Let all Join Hands. Only Jnana liberates not ignorance. The work that we have undertaken can be accomplished with the active cooperation and collaboration of an immensely talented sea of social work educators and practitioners who can translate this initiative of into concrete desirable outcomes. Let us all join together and Work for Indianization of Social Work and Globalization of Indic Wisdom.
References:
<![if !supportLists]>1. <![endif]> Ananya Awasthi, 2017, Explained: What Integral Humanism Is And Why India Needs It. Swarajya  Sep 25, 2017.
<![if !supportLists]>2. <![endif]>Integral Humanism–A Study, Edited by Sri. Devendra Swarup) Translation of a Speech by Shri Dattopant Bapurao Thengadi, organised by Deendayal Upadhyaya Smarak Siksha Samiti at Kanpur in February, 1970) pg:70-84, (Courtesy: Deendayal Upadhyaya's Integral Humanism: documents, interpretations, comparisons, New Delhi: Deendayal Research Institute, 1992
<![if !supportLists]>3. <![endif]>India Foundation ' Integral Humanism in Indian Thought', National Seminar,   New Delhi, 19-20 September, 2016.
<![if !supportLists]>4. <![endif]>V V Nene, 'Pandit Deendayal Upadhyaya: Ideology and Perception Part II Integral Humanism', Suruchi Prakashan: New Delhi
<![if !supportLists]>5. <![endif]>Vaidya, M. G., True Concept of Dharma, India Arise
<![if !supportLists]>6. <![endif]>Integral Humanism–A Study, Edited by Sri. Devendra Swarup.
<![if !supportLists]>7. <![endif]>Deendayal Upadhyaya – The Seer of Integral Humanism, India Arise, Feb 10 2014
<![if !supportLists]>8. <![endif]>Sanjeet Singh, Jagmeet Bawa et al Dr Gagan Deep Sharma , 2016, 'A review  paper on Integral Humanism: Comparison of Deendayaal Upadhyaya and his counterparts', Shiv Shakti International Journal in Multidisciplinary and Academic Research (SSIJMAR) Vol. 5, No. 2,  (ISSN 2278 – 5973) (PDF Available) in Asian Academic Research Journal of Multidisciplinary 5(2) April 2016 
SOCIAL WORK ROOTS IN ASOKA'S REGIME
Dr. Lokesha M.U
Assistant Professor
Department of Studies and Research in Social Work
Tumkur University
Saravana K
Research Scholar
Department of Studies and Research in Social Work
Tumkur University
Introduction
The emperor Asoka converted to Buddhism, decided to eradicate human suffering by erecting pillars that rose some 50' into the sky. The pillars were built by Magadha regime throughout the South Asia especial North India emerged as the center of the first Indian empire, the Mauryan Dynasty (322-185 B.C.E).  Asoka was embraced Buddhism to get out from Vedic tradition.  The incident of Kalinga war caused for mass deaths, which he himself had suffered out of a desire for defeat. He is commended for building hospitals for animals. He also focused on various welfare activities viz., construction of roads across India. After this transformation, Asoka came to be known as Dhamma Asoka. Asoka demarcated the core principles of Dhamma as peacefulness, tolerance of all sects and feelings, respect to parents, open-mindedness towards friends, humanity towards employees, and kindness towards all. These principles of Buddhism make ethic of behavior accepted by all social groups.
Asoka in Early Period
At time of Asoka ruling, he was led a war against a Kalinga with the goal of occupying its territory, rather that his grandfather had already struggled to do. The actual struggle happened during 261 BCE and it is measured one of the greatest brutal and goriest war in history. Kalinga's people protected themselves stubbornly, having their honor but losing the warfare: Asoka's armed power was stronger than Kalinga. The tragedy in Kalinga was utmost: with around three lakhs wounded, the city overwhelmed and thousands of alive men, women and children deported.  The fears of the Kalinga Warfare brought about a unexpected transformation in the heart of Asoka. Profound sorrow overtook him almost instantly.  The death, demolition, violence and killing of the war left a permanent hollow in his mind for long time to come.
Dhamma as Social Work Practice
Buddhism was erupted as state religion by Asoka during 260 B.C. He was the first emperor in history of India who strained to launch a Buddhist polity by instigating the Dasa Raja Dhamma (ten precepts) sketched by Buddha himself as the responsibility of a perfect ruler. They are enumerated as: To be liberal and no selfishness, to uphold a high moral appeal, to be prepared to sacrifice one's own desire for the well-being of the community, to be truthful and maintain complete integrity, to be kind, to lead a humble life to emulate, to be free from hatred of any kind, to practice peace, to practice tolerance, to respect public view to encourage harmony.  The edicts of Asoka are an evidence relating to Emperor Asoka's life and words consists of legends and the texts which inscribed on rock shells, which have survived.
In the ruling of Magadha, the emperor Bindusara held the significant bureau of Viceroy of Vyjirin, the main regional capital. It is a common exercise of by the Magada emperor in Maurya Dynasty. i.e., one to be projected in a complete and authoritarian empire whereby the leader was groomed and given an education by his father. Career of Asoka is derived chiefly from various of his edicts, but no any edicts found to be supporting for the evidence of actual cause for Kalinga war, but it explores his victory and his following guilt and defense of the Law of Religiousness. The one edict was subject to instructions for presentation and execution of this Law and record his communication of preachers and his religious retracing of the footsteps of the Buddha.  The Maurya Empire formulae part of India's past and marks an inimitable phase in its brilliance and magnificence. It lasted for over a century (321-185 BC) and is to be detected as one of the boundless cultures of all time. Apart from its wisdom, and despite the argument and ambiguity neighboring many of the events and achievements of its monarchs, the Magada kingdom is one of the extraordinary moral and humanitarian heritage to mankind.  Asoka dictated the exercise of Dhamma that became the pillar of his charitable and accepting government which was inspired by Buddha's principles. Dhamma was a way of life, drew in a code of conduct and a set of values that he stimulated his subjects to adopt to lead a nonviolent and wealthy life. He accepted the propagation of these values through publication of 14 edicts that he spread out during his empire.
Gopas as Friendly Visitors
The overview of the friendly visitor into the charity organization mix was a pivotal novelty in the growth of early social work. The friendly visitor was a fascinating blend of beliefs and values representing traditional economics, an upper-class lifestyle, social Darwinism, Christian love, and good intentions. Looking for to follow scientific principles as they were then understood, the friends would initially studies and examine relief applications, separate the recipients into justified or undeserving classes and then pleasure them by making recommendations and providing them with friendship (Global Institute of Social Work, 2015). The total trust of the friendly visiting drive on inexpert volunteers led to a recognition that active visiting required more than upper class position, a successful husband and a Christian heart. Gradually but surely, charity workers became influenced by effective visiting required a squad of workers who were trained and paid for professional help. As similar the king Asoka was interested to deliver appropriate welfare to their own citizens, for that he was paid employees called 'Gopas', they were official to uphold the register of criminal characters and keep the facts of a man and his property, income and expenditure. The responsibilities were delegated to 'nagarpala' and 'sthanikas' who were the authorized persons of city administration and local administration. The fraud and misappropriation with public account were measured as serious fault and punishments were registered to stop the dishonesty (Neena Pande & Sashmita, 2010).
Gopas as Paid Social Worker
Asoka was appointed Gopas, their responsibility is to collect information of property and tax revenue of an individual in Asoka regime. Gopas assigned to take census. The role of Gopas is almost similar the role of friendly visitors who known as early social workers in European country.  These Gopas maintained wealth details of individuals and maintained wealth tax.  The extensiveness and facts of Mauryan census taking revealed that of early Egypt under the Kings of Pharaosh, and was the greatest widespread register existing earlier industrial revolution.  With orientation to the American federal government, the Gopas combined the roles of the internal income service and the Department of the Census (Charles, Zahka, & Surendra, 1996).
Types of Gopas, worked as Social Worker
There was structured way of practices of Social service by professional through various agency at early period in Europe viz., Charity organization for Society.  The entire development of Social Work profession is focused on eventual development of Social Work by the effort of various personality.  In England it is evident that Elizabethan poor law was made an historical effort to differentiate able body and unable body poor, which provided an flatform to service providers to find out needy people. In the same the Mouryan emperors focused on the welfare of the society, the had separate position to identify need people, they were known as Gopas and Sthanika.  There were state positions as Mahamatras, antahpalas, Pradesika, raj ideas, mandalesvars, raja sthmya, uparika and vishyapatis.
The entire edicts of Asoka written in Brahmi literature of Prakrutha (Ruling Language During Asoka Period) explores that, Asoka had structured way of administrative authorities.  'Antahpalas,' known as warden they guard the boundaries of the kingdom. Gopas worked Under the Sthanikas, they have attended to the affairs of ten, twenty, or forty families.
The prime role of city officials was focus on the householders and sellers were not in any way troubled in their respective professions. The role is known to be a role of industrial social workers at current day. And also it was their responsibility to provide proper medical aid to the sick, and to maintain record of travelers and migrant i.e., record of individuals entering or leaving the city, and to take precautions against the epidemic of fires, to look to the hygiene of the city, to observe the activities of suspicious characters, and to avoid the commission of crimes (Pramathajath, 1916). These roles of various authority was known to be a structured way administration of Asoka to maintain peace as well as to provide welfare to his citizens.  Keeping records of travelers or migrants took a greater importance during his period, to avoid epidemics and crime, and also Asoka focused the rights of migrant, At present state also has Interstate migration Act to keep records of migrants and to take of their rights.
Welfare Activities during Asoka Period
Asoka was known as welfare king, he appointed a administrator to look after the welfare of vulnerable. Dhamma Mahamathras known as high commisoners of charity was the highest authority to supervise the entire welfare programmes the state. Asoka many reforms viz., women empowerment and welfare, rehabilitation programmes for prisoners, various activities for rural development, and medical care services for free, legislation of prostitution and provisions of public utilities viz., roads, wells, and rest houses (Sthupa for Buddhist monks) for travellers etc. 
Asoka maintained the rule of equality, hence his administration was directed towards all aspects of welfare activities for the benefit of various strata of people. The evident found in Asoka's Kalinga Rock Edict in Dhauli, near the ancient capital of Kalinga, Tosali, that he declared the finest principle of administration quoting: "All men are my children, and just as I desire for my own children that they should have bliss and happiness both in this world and the other world, so also I desire the same for all men".
Hence, Samrat Asoka was made a regulation for his authorities at Tosali to "cultivate love for all humans".  His Rock Edict at Jaugada also focused the same famous announcement (Priyadarshi, 2017). Emperor Asoka the State closely approached to the highest type of a welfare state, its goal being to secure the extreme wellbeing of the entire society.
Conclusion
More important, in the current scenario, Asoka's legacy of a just and more humane based welfare administration of a very large kingdom, his attentive distribution of patronizing moral values and Buddhism, and his dynamic cultivation of sharp moral sensitivity among his subjects and bureaucrats, is his legacy to the humanitarian model in warfare; for the decisive humanitarian ideal in war is that it should not occur. After witnessing the griefs of the beaten Kalingas, Asoka found he could not reunite the Buddhist principle of the holiness of all living life with remedy to war, so much so that he even concluded the custom of the Royal Hunting. He not ever again involved in a armed operation and he required, through edicts eternally inscribed on rock surfaces, to prevent his sons and grandsons from so undertaking and urged them to "take attention only of tolerance and kindness, and respect as a conquest only that which is achieved by the Law of Piety "
References
Charles, W., Zahka, W. M., & Surendra, P. (1996). Kautilya's Arthashastra: A Neglected Precursor to Classical Economics. Indian Economic Review, New Series,, 31(1), 101-108. Retrieved 2018
Neena Pande, M. G., & Sashmita, P. (2010). History of Social Work: State Initiatives. In G. Thomas, Origin and Development of Social Work in India (pp. 8-10).
Pramathajath, B. (1916). PUBLIC ADMINISTRATION IN ANCIENT INDIA . London: MACMILLAN AND CO., LIMITED .
Priyadarshi, S. (2017). The Result of the Kalinga War during Asoka's Period. Retrieved 2018, from The Result of the Kalinga War during Asoka's Period: http://www.historydiscussion.net/history-of-india/the-result-of-the-kalinga-war-during-Asokas-period/2421
PERSPECTIVES OF MANAGING THE HUMAN DISTINCTIVENESS THROUGH EDIFYING BHARATIYA NARRATIVES
Dr.Venkatesha Murthy.S
 Associate Professor & Head, Department of Social Work
S.J.R.College of Science, Arts & Commerce, Bengaluru-560009
Mob: 9448851637, Email:svmurthy@gmail.com
Introduction
Indian narratology from time immemorial have remained imbedded in the Upanishads, Ramayana, Mahabharata and the Puranas. These narratives are set in the back-ground of Bharatiya Dharma Shastras. The cultural unity of India has been primarily nurtured through these narratives. Sanskrit Narratives have exercised a tremendous fascination on the Indian mind for over 5,000 years and left a profound influence on all Indian literatures. They have moulded the life and literature of India and constitute the greatest literary heritage of the country.
In the present scenario, the progressive socialist movements worked out their political strategies and the spaces through which the government in waiting or trying to conquer public political power and bring out social transformation. The elements which bind the society and mediate its conflicts are the states and their national governments. The heads of the states today are not held in any degree of respect. The former traditional hierarchical, master servant and bureaucratic relationships are ultimately restricted and mutually alienating.
However, the socio-cultural aspects, political context of narratology in Bharatiya perspectives indicate that there was more of participatory type of society. The family-the main domain of human relationship was founded on kinship, dwelt upon sharing and traditional division of labour. No one had the scope to pursue self-interest. There was genuine collaboration, team work and loving relationship. For instance,  in Vedavyasa's Mahabharata, the respectable roles given to Vidura, a sudra by birth, the powerful role of Kunti and Draupadi show that the society was more transparent and the so called marginalised were taken into consideration in the inclusive approach. It becomes very appropriate to remember how each and every character of Mahabharata asserted the present though there was large diversity of culture.
Objectives of the Paper
This analytical paper from literature background focuses on the following objectives;
<![if !supportLists]>1. <![endif]>To understand the human distinctiveness based on lines of Bharatiya Narratives
<![if !supportLists]>2. <![endif]>To relate the religious, spiritual and philosophical foundations of social work practice within the framework of Bharatiya Narratives
<![if !supportLists]>3. <![endif]>To make an attempt by moulding, nurturing and educating the people to walk in the right path of their life.
Narratives of Rig-Veda
The classical language of India – Sanskrit, has had a history of 4000 years in this country, its earliest literature the hymn of Rig-Veda being also the oldest and most extensive remains of Indo-European literature. Various types of literature like poetry, ballet, heroic legend, scholarly type etc have its origin in Rig-Veda. In critical view point we can observe there are characters of subjective and manifestoes type of kavya in this ancient literature. Indian Narratology is not only ancient but it is most extensive and varied. The Vedas are considered as the earliest and the most glorious literature. These Vedas holds a mirror to all human interests-literary, socio-political, religious, mythological, cultural and philosophical.
Max Muller and Sylvan Levi are of the opinion that they were pieces of religious dramas which come as a part of sacrificial ceremony. John Hertel and Schroeder are in favour of considering Samvada suktas as the remnants of ancient dramas. Winternitz feels that they are the ballads of which the dialogue parts have been preserved. Thus these hymns are the sources of later Sanskrit drama and epic literature.
Samvada Suktas are the rich treasurers of knowledge. We can extract any sort of knowledge for the welfare of the humankind and society from it. It has rich source of science, technology and social welfare. These narratives enable the man to think in good sense and make him to move in right path. In Satapata Brahmana there are certain moral reflections. One such instance is "Asuras defeated gods by falsehood, the gods gained success in the end. Likewise, when men speak the truth, they may suffer adversity first, but will prosper ultimately, while liars succeed at the moment, but perish in the end". 
Samvada Suktas of Rig-Veda clearly reflects the picture of a highly complex society in the full blaze of civilization ruled by the princes, but dominated by the priestly classes, through whose prayers the gods were persuaded to confer favours for the people. The narratives of Rig-Veda show that humanity was grouped into four classes with the intention of good management of social life and also to ensure a happy and purposeful life for every individual.
Narratives of Ramayana
Ramayana brought into the story the likes of the kings of Solar Dynasty. These narratives largely reflect the societies adhering to class and lineage. Ramayana is not simply a story of heroism, but it embodies the socio-religious-political ideals of millions of people of India. The teachings give solace in times of stress and strain in one's national and personal life. Word and phrase, line and stanza, sarga and kanda hold us in thrall even today. In a sense, Ramayana is a Dharma grantha. The duties of the king, the minister, the husband, wife, the servant, brothers and the like, are told in the epic in unmistakable terms. Ramayana reflects the human nature and the human conduct. Truthfulness, courage, forbearance, impartiality in respect of enjoying the power and material wealth, fulfilment of the promise and such qualities deserve to be followed by people in their daily life.
Ramayana teaches us how an ideal king, an ideal father, an ideal mother, an ideal son, an ideal brother, an ideal servant, an ideal husband and an ideal wife should behave in life.
In this regard, the statement, made by U. Thein Hen, chairman of the Burma Historical Commission, deserves special mention –– "Ramayana is not only a literary treasure but also a source of ennobling influence of the relationship of men as parents and children, husbands and wives, brothers and sisters, relations and friends, teachers and pupils and rulers and the ruled.
The Ramayana gives a many-sided picture of a perfect life. We are brought face-to-face with a series of different baffling and tragic situations, and show how Rama and the other principal characters react to them and ultimately tide over them. Valmiki has wisely upheld the ideal of dharma which has a comprehensive sweep and if this ideal, exemplified by the sage in the motives and activities of his numerous characters is grasped and put into practice, all the creeds may survive the present crisis, work side by side without the feeling of hostility, and make people intelligent, efficient and self-sacrificing enough to solve the problems.
Sri Aurobindo says –– "The work of Valmiki has been an agent of almost incalculable power in the moulding of the cultural mind of India: it has presented to it to be loved and imitated in figures like Rama and Sita, made so divinely and with such a revelation of reality as to become objects of enduring cult and worship, or like Hanuman, Laksmana, Bharata, the living human image of its ethical ideals".
Narratives of Mahabharata
Mahabharata 'the great epic of India' passing through the stages of 'Jaya' and 'Bharatha' came to be developed from a relatively small beginning. The Mahabharata describes the conflict between the Aryans themselves. At present it consists of over one lakh shlokas and has honour of being the bulkiest epic. It styles not only as an Itihasa, Akhyana and Purana, but also as Kavya, Dharma-Shastra, Artha-Sastra, Kama-Shastra, Nitisastra and Moksha-Shastra. Gita which is a part of this great epic is an ideal of Nishkama-Karma (doing duty without any expectation of result) and it seems to be the ultimate solution for most of the problems. Mahabharata contains situations and aspects that are inexplicable and enigmatic.
A western scholar Winternitz (1933) says about the significance of the Mahabharata as: "We find, then, in this the most remarkable of all literary productions side by side and intermingled, warlike heroic songs with highly coloured descriptions of bloody battle scenes; pious priestly poetry, with dissertations which are often tedious enough, upon philosophy, religion and law; and mild ascetic poetry full of edifying wisdom and full of love overflowing towards man and beast".
Socially, the epic represents a mixed society: numerous different Languages, cultures, rulers and regions. The Pandavas symbolize the undivided Hindu family and Draupadi, their common wife stands for embodiment and representation of the unconditional unity of the family. The Story of Sage Vibhavasa and his brother Supratika rightly point out the importance of unity in one's family. Mahabharata is a philosophy of social and ethical relations containing a code of law for societal sustenance. The story of Jaratkaru signifies the importance of parenthood. Surabhi the celestial cow while talking to Indra tells that people should have equal affection towards all their children but it should be greater towards those that are weak (Aaranyaka Parva). The text tradition is multiple and polygeneous.
Domestic life is the royal road to heaven. Yayati, enlightened his grandsons about the seven gates of heaven – asceticism, modesty, simplicity, kindness, peace of mind, self-control and gifts (Adiparva.90.22). Without domestic life the control of the senses by abstraction of mind in silence was not found very effective. The great author of the Mahabharata depicts the history of civilization, not of the body and clothes but of the soul and heart.
Mahabharatha is a veritable encyclopaedia of Hindu religion and culture. The very purpose is to expound dharma in all its ramifications. Gita which is a part of Mahabharatha is a discourse on analytical philosophy. The Gita dwells at length on man's existential dilemma. Krishna is an embodiment of the postulates he himself prescribes in Gita. The Mahabharatha has had a great tenacity through different ages and cultural changes. It is a story that India has never ceased to rethink and retell. The epic has been one of the main carriers of Indian culture. In India, there is no area of life that has not been influenced by the Mahabharatha. The influence has been profound and multi-faceted. In short, the Mahabharatha is one of the perennial springs of Indian culture.
Narratives of Dashakumara Charita
When we read Dandi's Dasha Kumara Charita we are in a completely new world. With fewer compounds and shorter sentences, this prose, produces quite a different rhythm. The number of characters, incidents and other details which the author reveals create a lively tempo. Dasha Kumara Charita is the story of the adventure – of the three princes and seven sons of ministers. They separate and each one undergo varied and exciting experiences. Finally, they reunite and each one mirrors the world, truly and fully, as he has seen it. The life and temperament of the different strata of society are reflected in them.
The humour and wit of the author are remarkable and far more attractive to modern taste than the other Indian works. The whole work is pervaded by the humour of the wild deeds of the princes, their determination to secure what they wish and their light hearted in difference to the morality of the means which they employ. In the arrangement of his work Dandin shows distinct judgement. He varies his tone; from the light-hearted or grim humour of chapter's ii and v as we pass to the earnest tragedy of chapter viii.
Dandin is unquestionably masterly in his use of language. He is perfectly capable of simple easy narrative, and in the speeches which he gives to his characters he avoids carefully the error of elaboration of language. But he is prepared to exhibit his talent and command of the language in descriptions. He aims both at exactness of expression and clearness of sense; he attains beauty, harmony of sound and effective expression of sentiment.
Narratives of Panchatantra
In the Panchatantra, the natural world and the human world mirror each other. Two main devices achieve this effect. The narrative uses analogy to portray similarities in social and political hierarchy and organization between the two worlds. For example, the king of the human world parallels the characteristics of the animal king of the forest. The second literary device, the use of allegory, anthropomorphizes or projects human characteristics onto the animal characters in the stories. Prominent signposts in various parts of the narrative constantly remind the reader that these stories are parables about human society and human virtues, vices, and frailty. A good example is "The Singing Donkey" of Book V, a pretentious soul who claims to know everything about music except how to sing.
The frame work of the first book entitled "Separation of friends" is the story of a bull and a lion that were friends but later plotted against each other. The main story of the second book, which is called "Acquisition of friends" deals with the adventures of four friends – tortoise, mouse, deer and crow and it is meant to illustrate the advantages of judicious friendships. The third book – "The war of the crows and the owls", points out the danger of friendship concluded between those who are old enemies.
The fourth book, entitled "Loss of what has been acquired", illustrates, by the main story of the monkey and the crocodile, how fools can be made by flattery to part with their possessions. The fifth book, entitled "Inconsiderate Action" contains a number of stories connected with the experiences of a barber, who came to grief through failing to take all the circumstances of the case into consideration.
The book is pervaded by a quaint humour which transfers to the animal kingdom all sorts of human action. Thus animals devote themselves to the study of the Vedas and to the practice of religious rites; they engage in disquisitions about gods or exchange views regarding subtle rule of ethics; but suddenly their fierce animal nature breaks out. A vigorous popular spirit of reaction against Brahman pretensions here finds expression and altogether a sound and healthy view of life prevails, forming a refreshing contrast to the exaggerations found in many branches of Indian literature.
Story literature adopted all cultures and showed a learning towards multi-culturalism as it mentions the animal and bird characters having the names of people. There is the Jackal – Kshudrabuddhi (A cunning and mean minded one), the crow – Subuddhi (intelligent one) in the story of the crow and the deer. In Mitra Labha we see that even though the crow, the deer, the mouse and the tortoise belonged to different groups, they were best friends who were gifted with intellect which helped them to escape from danger.
Story literature is an eternal treasure house of morality and dharma. Dharma highlights about repercussion of the actions done by a person. Dharma has always been dynamic and a very real force to reckon with in the life of our nation. Dharma was gradually metamorphosed into duties and responsibilities prescribed for various beings in different stages of evolution in life, but it was always based on the principle that this evolution should ultimately bring about enlightenment. If all the members of the society act according to dharma, there is no reason why all should not live in happiness and peace.
Social welfare during Vedic Period
The Vedas are the scriptures derived from the Vedic period (1500-700 BC)
Communitarian (a social order in which individuals are bound together by common values that foster close communal bonds. A model of political organization that stresses ties of affection, kinship, and a sense of common purpose and tradition, as opposed to the meagermorality of contractual ties entered into between a loose conglomeration of individuals) republics existed during the early Vedic period. In communitarian social order the whole business of helping people in need was everybody's business mainly handles in a collective way. Thus, everybody was client and agent both an different occasions and for different purposes. In early days of Indian civilization both social life and social welfare were almost inseparable.
           Bartlett Harriet (2003) defined "Social work as an art, a science, a profession that helps people to solve personal, group (especially family) and community problems and to attain satisfying personal, group, and community relationships through social work practice, including casework, group work, community organization, administration and research" Social work is not an over emerged profession. From charity to profession it crossed various milestones from different personalities. Especially in India we can see prosperous tradition of social work.  
Religious and Spiritual Roots of Social Work Tradition in India
In Indian point of view, social work is not only a helping the poor but it is a prayer or pooja which performed by the devotees to god. In a nutshell, we can find roots of social work in our ancient epics as under; (Paul Chowdhry D, 2000)
<![if !supportLists]>· <![endif]>The nature of social service was in the kind of 'charity'.
<![if !supportLists]>· <![endif]>Rig-Veda: says that, 'may the one who gives, shine most'
<![if !supportLists]>· <![endif]>Upanishads: stressed upon helping the poor and suggest to the households that" every households must practice charity"
<![if !supportLists]>· <![endif]>Mahabharata: the holy epic of Indians speaks about importance of human kindness. The different characters of Mahabharata highlighted the importance of social service. Karna is famous for 'Dana'. Yudhistira talks about non-violence, truth, and importance of charity.
<![if !supportLists]>· <![endif]>Yagna: In Hindu tradition yagnas (Mass ritual) takes significant role in creating us feeling, and mass well-beingness. In Vedic days people assemble in the bank of river. Each tried to contribute something to yagna according to their capabilities. The beauty of the yagna is, it is not for personal desires but for community well-being. 
<![if !supportLists]>· <![endif]>Yagnashala: this is a kind of institutions, for men and women for teach yagna ritual and it also train the youths on mass well-beingness.  It was considered as socialization part of the society.
<![if !supportLists]>· <![endif]>Bhagawad Gita: speaks if you cherish devas by performing Yagna spirit, those devas shall cherish you. It also speaks about profit. Individual profit should come in an appropriate means. The wealth belongs to all. Accumulation of wealth is cheating, He is considering as a thief.  It also, suggests, donating to create welfare of all. It further stressed, in order to free from sin, he has to help others who are in need.
<![if !supportLists]>· <![endif]>Ashwalaya Gruha Suthra: It speaks about 'Pancha Yagnas'. Every individual must perform panchayagnas in his life: 1.God 2. Ancestor's e 3. Animals 4. One's own self 5. One's fellow men. He has to satisfy all. Then only his life will be fulfill.
<![if !supportLists]>· <![endif]>No household says 'no' to beggars. Everyone helps. In India, helping the poor is everyone's business in collective way.
<![if !supportLists]>· <![endif]>Manu Sutra: it imposed few of the duties to the individual. One must perform duty to feed his guest first, and then his servant, he & his wife eat last of all. This is our tradition. Indians believes "Athithi Devobhava"
<![if !supportLists]>· <![endif]>Due to agrarian society, land ownership has come in to force and concept of 'Charity' converted as 'Dana' concept. It became charity of Kings and Kshatriyas.  The concept of Dana has made for Punya.
Hinduism and Philosophy of Social Welfare.
According to Hindu philosophy human beings should revere, respect and love all, because, God, the supreme being pervades all and immanent in all things and beings. The goal of life is to realize the self, which is nothing but GOD, for this one needs to rise into higher spheres of thinking, feeling and acting and help others to achieve the same. The rules and regulation prescribed to achieve self-realization are known as Manushya Dharmas. It is elaborated as yamas (actions to be avoided) and niyamas (actions to be followed). These virtues are enriched by the additional virtues of Dana, Daya and shanthi (Rengaswamy)
Swami Vivekananda created not only a lofty Advaitha Vedantic ideal under a order a new religious know as Ramakrishna Mission but founded a new epoch  in the life of the Indian people also on social, economic, political, fronts in consistency with India's past heritage and in harmony with the western ideals. He was a protagonist of Hindu social ideas and a precursor of socialism. He championed in his own time the causes of the down-trodden masses and the exploited poor class.  It is necessary, therefore, that a thorough study of his social and political ideals he made particularly at a time when the younger generation feels attracted to the western ideals without looking to its own treasures suitable to its own surroundings.(Bhaiya Subhash Chadra Prasad, 1999)
Conclusion
Bharatiya narratives indicate the futility of prevailing human character which is marked by mindless copying suspiciousness, unrealistic fear and greed that eventually leads to dilemma, frustration and sufferings which have become the hall mark of the present era. Even today, people find the morals of these stories useful and solving their personal, family and social problems. It trains young mind in their daily affairs of life by acquainting them with the accumulating experiences of the past era. Every story can still be applied to human character and can give amicable instructions on every point.
Moralities of Bharatiya narratives have always been dynamic and a very real force to reckon within the life of our nation. It gradually metamorphose into duties and responsibilities prescribed for various beings in different stages of evolution in life. But the principle should ultimately bring about enlightenment. If all the members of the society act accordingly, there is no reason why all should not live in happiness and peace. Hence, the saying "Dharmo Rakshathi Rakshitaha" of the great sage Vedavyasa will not go in vain. Social Work travelled a long way from welfare to empowerment and development and the present emphasis of the profession is protecting and promoting people's rights. (Gracious Thomas, 2010)
References:
<![if !supportLists]>1. <![endif]>Bartlett Harriet M (2003), Working Definition of Social Work Practice, National Association of Social Workers, Vol.13, No.3.
<![if !supportLists]>2. <![endif]>Bhaiya Subhash Chadra Prasad (1999), Socio-Political Philosophy of Swami Vivekananda, Dissertation.com, http://www.dissertation,com/library/1120753a.htm
<![if !supportLists]>3. <![endif]>Gracious Thomas (2010), School of Social Work, Indira Gandhi National Open University (IGNOU), New Delhi
<![if !supportLists]>4. <![endif]>Harshananda Swami (2008): A concise Encyclopaedia of Hinduism-Vol.1, Ramakrishna Mutt, Bangalore,
<![if !supportLists]>5. <![endif]>Keith, Berriedale (2001): History of Sanskrit Literature, Motilal Banarsidas Publishers, Delhi, 
<![if !supportLists]>6. <![endif]>Macdonell.A.Arthur (1971): History of Sanskrit Literature, Motilal Banarsidas Publishers, Delhi.
<![if !supportLists]>7. <![endif]>Paul Chowdhry D (2000), Introduction to Social Work, Atma Ram & Sons, New Delhi & Lucknow.
<![if !supportLists]>8. <![endif]>Ramayana and Mahabharata: Some Glimpses of Great Indian Epics
<![if !supportLists]>9. <![endif]>Rengaswamy, Introduction to Professional Social Work, Madhurai Institute of Social Sciences, Madhurai
<![if !supportLists]>10. <![endif]>Rudrappa Shiva G.S (1990), Bharateeya Sahitya Sameekshe-I and II, Karnataka Sahitya Akademi, Bengaluru.
<![if !supportLists]>11. <![endif]>Ryder Arthur (1975): Translations of Panchatantra-Jaico6/bgtgv Publishing House, Bombay.
<![if !supportLists]>12. <![endif]>Suri Laxman (1997): Bharatha Sangraha, Bangalore University press, Bangalore,
<![if !supportLists]>13. <![endif]>Various Authors (2001): Cultural Heritage of India –Book I, II and V, Ramakrishna Institute of Culture, Calcutta.
<![if !supportLists]>14. <![endif]>Winternitz Maurice (1933), History of Indian Literature, vol.1.pp.45-75, Digital Library of India.
SEVABHARATHI AS THE FOUNDING STONE OF INDIC SOCIAL WORK: AN ARCHETYPE FROM KERALA
Raneesh C
Ph.D. scholar
Department of Social Work
Central University of Kerala
Email: raneesh.tirur@gmail.com
Dr. Mohan A.K
Associate Professor
Department of Social Work
Central University of Kerala
Introduction
What should be your method of action? To this Swami Vivekananda replied "Our method, is very easily described. It simply consists in reasserting the national life. Buddha preached renunciation. India heard, and yet in six centuries she reached her
greatest height. The secret lies there. The national ideals of India are RENUNCIATION and SERVICE. Intensify her in those channels and the rest will take care of itself" (Vivekananda, 1919). The concept of SEVA is imbibed in the Indian ethos and value system. The persons and organizations which touch this nerve in our society always made wonders in the life of people. In India, it never considered as for the recipient but instead, it is for the giver. The Sevabharathi concept is basic to Indic social work.
In August 2018, Kerala witnessed large scale destruction due to heavy rainfall. The 44 rivers and 80 dams in the state overflowed and the excess water was released through the dams. Among the 14 districts in the state, 13 were affected by the flood. The state had not witnessed this kind of flood in 100 years. The International Federation of Red Crescent and Red Crescent (2018) estimated "since the start of the monsoon, in Kerala alone, 324 lives were lost, 220,000 people were left homeless, 2.8 billion US dollars in economic losses with more than 10,000 kilometers of roads damaged, 223,139 people sheltered in 1,500 relief camps". This assessment is only a basic estimation of the initial days of the flood.
Kerala overcame this situation with the support of the armed forces, state mechanisms, volunteer organizations, religious organizations, and various socio-political organizations. The active participation of civil societies helped to minimize the catastrophe. Dhanuraj (2018) observed "individuals went out of their way to rescue stranded people, arrange logistics and transport, provide basic supplies and raise funds all of their own free will". Kerala presents an admirable example for the entire country in its dealing with the disaster. All stakeholders such as the state machinery, both central and state mechanisms, civil societies, NGOs, residence associations, and all sections of people responded to the tragedy. The Indian Express (2018) reported "The state government and its agencies, central forces including the national disaster response force, the army, navy and air force, civil society, ranging from NGOs to self-help groups, resident welfare associations, the Malayali Diaspora, and neighbouring states-all have been quick to respond to the tragedy". The government, civil societies, and all other stakeholders played their own role in rebuilding the state and providing a better solution to the people.
Among it, the intervention of Sevabharathi Kerala, a voluntary organization affiliated to Rashtriya Sevabharati, is exemplary. The activities carried out by it through the calamity is quintessential of the Sevabharathi concept. The Former Judge of Supreme Court Honourable Justice K.T. Thomas commented thus on the activities of Sevabharati, "They did not compete with any other service organization, but cooperated with all others and showed that all occasions when the social work services are needed they will forge ahead and do the necessary" (Desheeya Sevabharati Keralam, 2018). The fundamental idea and essence of Sevabharathi echoes in the Indian scriptures and the Vedas.
Methodology
This paper is based on information gathered from secondary sources like newspapers, media reports, organizational pamphlets, and related websites. The purpose is to analyze the concept of Sevabharathi on the basis of volunteer activities done by civil societies and NGOs during the flood. To this end, the researcher selected the work of an organization, which worked in different phases of the disaster management during the Kerala flood. The paper not only intends to present the activities during the time of the disaster, but also study the approach of that particular organization in conducting such activities on the basis of the traditional Seva (service).
Hence, the researcher selected Sevabharathi, a nationwide social service organization. It meticulously participated in the rescue process and is still active in its work in the flood affected areas. While analysing their activities during the time of the flood, it is observed that it is well- coordinated and prioritized.
The Intervention of Sevabharathi during Kerala Flood
<![if !vml]>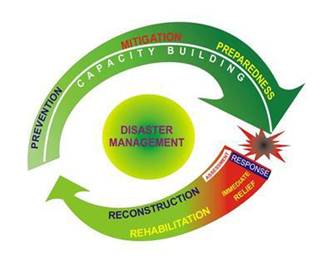 <![endif]>The approach of Sevabharathi towards the disaster was scientific and professional. It's a recognized fact that disaster management is based on a continuum of sequential activities which support and depend on each phase. According to the National Disaster Management Authority, the disaster management cycle is:
Source: (National Disaster Management Authority, n.d.)
As per the National Disaster Management effective disaster management must follow a Holistic and Integrated Approach. (National Disaster Management Authority, n.d.). Thus, the activities of Sevabharathi cover all disaster management phases in the following manner.
<![if !supportLists]>1. <![endif]>Immediate Response towards Disaster
In this first phase, the major aim is to reduce causalities and minimize possible damages. The activities done by Sevabharathi during this period are:
1.01     Help Desk
The first difficulty was lack of coordination. The flood affected different districts and several villages were affected. The people were baffled in the initial days of the flood. Social media platforms and other helpline numbers filled with messages, both video and audio, seeking help. People from outside the state and country were continuously calling for information and in extending help to their family members and relatives. The rescue team faced difficulty in locate the exact place of the people. Hindustan Times (2018) reported "Residents all over the state of 33 million have made urgent appeals on social media for help, saying they cannot make contact with rescue services as power and communication lines are down".
So, the Sevabharathi team first established a state level help desk in Thrissur district that coordinated the calls from flood affected areas and directed the information to the concerned district headquarters. This helped the rescue teams and volunteers to identify the people easily. A 15- member team attended the phone calls and made centralized coordination of the activities of Sevabharathi.
1.02     Rescue
Overall 24,385 volunteers were directly involved in rescuing the flood affected people in different districts and shifting them to a safe place. Based on the reports of Sevabharathi, they rescued 77,687 people. In every disaster situation, this is vital, as any delay or setback affects the lives of people. During the rescue operation, Sevabharathi lost some volunteers, while others were injured too.
1.03     Relief Camps
After the rescue, the priority is to move the people to a safe place since they cannot go to their homes or neighborhood. So, Sevabharathi set- up relief camps for the flood-affected people. A total of 3026 relief camps was set-up by government agencies. Sevabharathi set- up 420 camps and in each camp, 50 volunteers were involved, besides that, the Sevabharathi volunteers also worked in other relief camps organized by the government or other agencies. These camps provided medical services with other basic necessities for the affected people.
1.04 Distribution of Food Grains and Clothes
The shortage of basic amenities is common in any disaster situation. In relief camps, this is taken care of by the organizers. But for the people staying in the houses, the shortage of food grains and clothes was major as most of the items in the household were useless or not in usable condition. In this regard, Sevabharathi started a supply of food grains and clothes with the help of local Sevabharathi units and well-wishers. Up to August 29, 2018, they had distributed 1,63,170 cloth materials and food grains 24,000 tons to 2, 23,593 families.
1.05.    Sanitation Works
One of the challenges after a flood situation is the prevention of communicable diseases. WHO states "floods can potentially increase the transmission of the following communicable disease". Sevabharathi responded with massive sanitation activities all over the state. A total number of 1,35,000 volunteers participated in this cleaning programme and they cleaned 34,542 houses, 5895 wells, 3000 religious institutions, and 890 public institutions (Punarjani,2018).
2.   Need Assessment
This included the impact of the disaster or the intensity of the disaster. In Kerala, during the initial stages of the flood, it was difficult to understand the impact of the flood on the different sectors of society. Only the number of deaths at that time was available on the public platform and no information. In this situation, Sevabharathi decided to conduct a state-wide need assessment for understanding the ground reality. The International Federation of Red Cross Crescent Societies (2008) stated "The aim of an assessment is to understand a situation in order to identify the problem(s), the source of the problem(s) and the consequences of the problem(s). Thus, Sevabharathi was not only assessing the situation, but was also deciding on the intervention methods related to reconstruction and rehabilitation.
As part of the need assessment throughout the state, Sevabharathi conducted a survey. Based on this survey, they prioritized the needs and finalized 17 areas for reconstruction and rehabilitation.
Details of Flood Affected Houses and Other Buildings
| | | | | | |
| --- | --- | --- | --- | --- | --- |
| Sl. | Name of the | Fully Damaged | Partially | Other | Total |
| No. | District | House | Damaged House | Buildings | |
| | | | | | |
| 1 | Pathanamthitta | 39 | 11 | 10 | 60 |
| | | | | | |
| 2 | Alapuzha | 186 | 478 | 619 | 1283 |
| | | | | | |
| 3 | Kottayam | 27 | 107 | 1 | 135 |
| | | | | | |
| 4 | Idukki | 14 | 0 | 0 | 14 |
| | | | | | |
| 5 | Ernakulum | 62 | 25 | 8 | 95 |
| | | | | | |
| 6 | Thrissur | 72 | 20 | 20 | 112 |
| | | | | | |
| 7 | Palakkad | 23 | 33 | 2 | 58 |
| | | | | | |
| | Malappuram | 5 | 0 | 1 | 6 |
| | | | | | |
| 9 | Kozhikode | 1 | 0 | 0 | 1 |
| | | | | | |
| 10 | Kannur | 6 | 0 | 0 | 6 |
| | | | | | |
| 11 | Wayanad | 31 | 0 | 0 | 31 |
| | | | | | |
| | TOTAL | 466 | 674 | 661 | 1801 |
| | | | | | |
Source: Sevabharathi Keralam (2018)
Based on this data, the organization decided to work on these areas which required immediate attention:
<![if !supportLists]>Ø <![endif]>Construction of new houses,
<![if !supportLists]>Ø <![endif]>Purchase of Land Property,
<![if !supportLists]>Ø <![endif]>House Repairing, and
<![if !supportLists]>Ø <![endif]>Other Building Construction/ Repairing.
3. Reconstruction and Rehabilitation Phase
This phase demanded a transition from an emergency situation to the reconstruction stage or recovering situation. UN-HABITAT (2008) states "Recovery literally means getting people back on their feet and enabling them to rebuild their lives. Rebuilding lives involve overcoming trauma, rebuilding their shelter, securing income-earning opportunities, getting back to jobs, getting children back to school and a host of other essential things". Sevabharathi activities are essentially a roadmap of the above mentioned definition. It included multifaceted projects and programmes that would help people reconstruct their life.
Implementation Strategies and Financial Management
The overall coordination of the programmes was done by the Kerala State Sevabharathi team through the district member organization. In Kerala, each district has several member organizations affiliated to the National Sevabharathi. The coordination for the flood disaster works were majorly carried out by the district member organizations.
This strategy helped in two ways. This strategy helped in implementation as well as monitoring.
In this regard, one of the strategies of the Sevabharathi is the mobilization of resources of not only money and materials, but also human resources because in the first phase of disaster management, human assistance is vital. This helped in getting enough volunteers in the rescue field and camps. The Project Director of State Sevabharathi stated "in all the situations we never worry about the scarcity of volunteers, always we get enough numbers" (Dineeshlal, 2019).
The major challenge of the Indian Non-Governmental Organizations is the financial deficit. Prabhakar (2014) observed that one of the major reasons for the failure of Indian NGOs or the voluntary sector is the lack of funds. After assessment, Sevabharathi estimated a budget of one hundred crore rupees for the completion of the assigned projects. In this context, during the first days itself Sevabharathi started a separate account for Flood Relief purpose. And it was never connected to any other activities of the organization. It showed reliability among the public towards the organization. One of the early contributions came from Mrs. Sudha Murthy on behalf of the Infosys Foundation of one and half crore rupees (Infosys nalkiyath Onnara kodi, 2018) During the inauguration of "Main Nahin Hum" Portal and App by the Honourable Prime Minister Shri. Narendra Modi, she acclaimed the work of Sevabharathi (pmindia, 2018).
The roadmap of Sevabharathi is set to achieve all their objectives related with flood rehabilitation within the time span of three years, and they believe that they can achieve it with the support of the society.
Sevabharathi - The Founding Stone of Indic Social Work
About 1,61,605 volunteers, 350 Sevabharathi units, 652 medical camps, 420 relief camps, 75 ambulances, 300 material collection centres, and 350 boats incessantly worked to revamp the life of the people. These volunteers are not professionals nor do they have any training to deal with such a situation, but they did work. According to Dash (2018), the Bharatiya Karan Social Work has three major premises, Indianization, Indigenization, and Decolonization. While analyzing these three major premises, it can be found that the values and cultural ethos of Indian life are at its base. Sevabharathi is one among them. In India, Seva is considered as part of 'Sadhana' that helps an individual to the ultimate Liberation- Moksha or Mukti. The word Seva is a combination of two Sanskrit words 'Saha' which means 'with that' and 'eva' which means 'too' and together it means 'together with'. It means selfless service or compassion to others above oneself. This notion leads the volunteers in the flood affected areas to console and be with the affected people during their time of tragedy. The successful intervention of Sevabharathi during the flood relief is an impeccable example of revoking this ideal among the people. It is time that Social Work professionals and academicians bring out this ancient root of the 'Seva' concept
assimilated in the minds of common people in our country, and then only the indigenization of social work will be a reality, otherwise we will fail to capture an independent space for Indic Social Work.
References
Dash,B.M.(2018 December 7). 'Bharatiyakaran of Social Work': Understand the Meaning and Concept New Delhi Times. Retrieved from https://www.newdelhitimes.com/bharatiyakaran-of-social-work-understanding-the-meaning-and-concept/#
Desheeya Sevabharati Keralam (2018). Punarjani. Desheeya Sevabharati Keralam.
Dhanuraj, D. (2018). How Floods Uncovered the Truly Liberal Spirit of Keralites.
Centre for Public Policy and Research.doi:https://www.cppr.in/article/how-floods-uncovered-the-truly-liberal- spirit-of-keralites/ https://indianexpress.com/article/opinion/editorials/kerala-floods-rain-disaster-rescue-operations-relief-work-pinarayi-vijayan-5316417/
Dineeshlal (2019, January). Sevabharathi Flood Relief Activities. (R. c, Interviewer) Infosys nalkiyath Onnara kodi (2018 November 13). Janmabhumi. India. International Federation of Red Cross and Red Crescent Societies (2008). Guidelines
for assessment in emergencies. Retrieved 2019 from https://www.ifrc.org/Global/Publications/disasters/guidelines/guidelines-for-emergency-en.pdf
National Disaster Management Authority (n.d.). Retrieved 2019 from National Disaster Management Authority Government of India: https://ndma.gov.in/en/disaster-management-cycle.html
Emergency Plan of Action (EPoA) India: Kerala floods (2018). International Federation of Red Cross and Red Crescent Societies. doi: http://adore.ifrc.org/Download.aspx?FileId=210004
People's Process in Post Disaster and Post Conflict Recovery and Reconstruction (2008).UN-HABITAT
United Nations Human Settlement Programme.
Doi:https://www.ifrc.org/PageFiles/95751/B.d.04.%20People's%20Process%20in%20
Post- disaster%20and%20Post-conflict%20Recov%20and%20Reconst_UN-
Prabhakar, K. (2014). Voluntary Organisation and its Challenges in India. 2(3), 567– 581.
Punarjani (2018). Kerala Flood Rescue Work. Desheeya Sevabharathi Keralam. Sevabharathi Keralam (2018). Kerala Flood Rehabilitation Programme. Desheeya
Sevabharathi Keralam. Retrieved 2019
Websites
pmindia. (2018, October). News Updates. Retrieved 2019, from http://www.pmindia.gov.in: http://www.pmindia.gov.in/en/news_updates/pms-
address-on-the-occasion-of-the-launch-of-main-nahin-hum-portal-app-and-
interaction-with-it-professionals-on-self4society/?comment=disable
http://Sevabharathikeralam.org/
https://www.who.int/hac/techguidance/ems/flood_cds/en/
RELEVANCE OF SRI AUROBINDO IN SOCIAL WORK
Mithilesh Kumar, PhD
Assistant Professor, Mahatma Gandhi Fuji Guruji centre for Social Work, MGAHV, Wardha.
Rajan Prakash, M.Phil
Research Scholar, Mahatma Gandhi Fuji Guruji centre for Social Work, MGAHV, Wardha.
Introduction
Society and humanity as a whole have always been the concern, a source for reflection, a sea of knowledge and a subject of enquiry for Indian philosophers and reformers. There is a striking similarity in most of the Indian reformists that they experimented with their ideas, view and beliefs and in the course came up with the visualized model of reality. Gandhi had his vision of the world, a dream of non-violent and egalitarian society. The prescriptive beliefs and behavioural directives that he held for the world was blissfully practised by him in the ashrams. Ambedkar was inflicted by the caste system. He had the firm belief in the laws to end discrimination and consequently introduced constitutional provisions for the creation of a society based on social justice. Shri Aurobindo too held the philosophy of society and its reconstruction. He expounded the idea of integral yoga, involution, evolution, integral psychology and super mind and shaped his life accordingly. Like Gandhi, he also believed in the ashram system and tested his ideas there. However, it is astonishing that he is regarded more like a yogi, spiritual mystic than a social reconstructionist. His idea of social aspects is not much known even in the academic community. This paper shows that his ideas developed much in response to the problems of Indian society in particular and sheds light over his thought for various facets of society. Besides, it evaluates Auroville and compares it with the philosophy of Aurobindo, evaluates whether it the model of vision of social reconstruction of Aurobindo.
Aurobindo in History
Born on 15 August 1872 in a Bengali Kayastha family that was associated with the village of Konnagar in the Hooghly district, Sri Aurobindo donned many hats in his life. Getting the earliest school education from Darjeeling, he along with his siblings were placed in England in 1879 to realize the dream of Krishna Dhun Ghose, his father, to enter Aurobindo in Indian Civil Service which was an elite organization of the time.<![if !supportFootnotes]>[22]<![endif]>  He completed his schooling from St. Paul's in London, where he learned Greek, English poetry and literature and familiarize him with German and Italian. To fulfil the wish of his father, Sri Aurobindo also applied for the ICS while at Cambridge. He passed the Indian Civil Service Examination with great credit in 1890. He, however, failed to stand the required test in horsemanship and hence was not allowed to enter the Covenantal Service of the Indian.<![if !supportFootnotes]>[23]<![endif]>  In 1893, Aurobindo returned to India and became the Vice-principal of the State college in Baroda and from 1893 to 1906 he extensively studied Sanskrit, Bengali literature, Philosophy and Political Science. In 1905 the Bengal was partitioned and in the wake of the outburst of the public sentiments against the partition and the British he joined the Indian revolutionaries and remained active until 1910. From 1910 Aurobindo left all political activities, settled in Pondicherry and confined himself to the spiritual and philosophical pursuits. Here he contributed immensely in the field of spirituality and expounded philosophy concerning humanity. All his major works, The Life Divine, The Synthesis of Yoga, Essays on the Gita, The Secret of the Veda, Hymns to the Mystic Fire, The Upanishads, The Renaissance in India, War and Self-determination, The Human Cycle, The Ideal of Human Unity and The Future Poetry have been derived from his earlier started monthly philosophical magazine Arya in 1914.<![if !supportFootnotes]>[24]<![endif]>  Aurobindo influenced the world with his works and passed away on 5 December 1950.
Philosophy of Aurobindo: As a Response to the Problems of Person and Society
Haridas Chaudhuri points out those three basic problems guided the spiritual and philosophical quest of Sri Aurobindo.<![if !supportFootnotes]>[25]<![endif]>  The first was his perception of contradiction in the society of India. Why did India lag in the field of Economic, social and political realm in spite of its profound contribution to spirituality and philosophy? The second problem is the dichotomy believed to exist between self and body, between complete liberation and self-knowledge on the one hand and active physical existence and social participation on the other. The third problem arose from Aurobindo's concern for the future of man and civilization. His scope of interest embraced not only the fate of India as a nation but also the destiny of all mankind.
It is essential for us to understand his perception and how he tackles these to embrace his ideas. To ponder over the first question Aurobindo undertook extensive research into the ancient scriptures of India, studied Vedas, Upnishadas and Geeta and came to find that in these 'Adi Vedanta', as he called them, the idea of liberation was conceived not so much as a release from the cycle of birth and death but as emancipation from the bonds of ignorance and selfishness. The supreme value emphasized was the manifestation of divine glory in human life. Therefore, the Vedic sages offered prayers and made sacrifices to gods, that is, to the powers of light or ontological powers of being so they could enrich and spiritually transform human life on earth. By their hymns and offerings "The gods are increased; they are said to be born, created or manifested in man.<![if !supportFootnotes]>[26]<![endif]>
It all happened in the middle ages that this positive attitude to life and the world was replaced by the world and life-negating tendencies. So Aurobindo who was one of the prominent freedom fighter developed in his work The Life Devine a philosophy to reaffirm the reality of the world from the ultimate standpoint and the meaningfulness of the social and political action from the spiritual standpoint.
As stated earlier the second problem is the dichotomy believed to exist between self and body, between complete liberation and self-knowledge on the one hand and active physical existence and social participation on the other. Unlike Christian theology, Indian philosophy and yoga psychology do not make any distinction between natural and supernatural. Although the two are differentiated as the lower and higher Nature,<![if !supportFootnotes]>[27]<![endif]> apara and para Prakriti (both are considered the manifestation of the same nature). In Christian theology, however, we find the dualism between natural and supernatural as two radically different modes of existence. Indian philosophy views both mind and body as the evolution of the same creative energy of nature. Aurobindo believes in the integration of self and body. He has set forth the fundamental principles of integral yoga in The Synthesis of Yoga which apart from analyzing ancient systems of yoga, provides an explanation on certain components of his own system of integral yoga which seeks to integrate self and body.
Aurobindo tackles the third problem in his Idea of Human Unity. The problem is so serious that even today after the formation of a number of social organizations to establish world peace, they have hardly succeeded. Aurobindo was aware of dangers inherent in these organizational approaches to control human. He believed that it was the human who needs to be awakened. He maintained that reasons evolved in the evolutionary process of the humans. But ultimately the rational mind is inferior to supermind, the integral truth-consciousness or Being-awareness. Mind divides the indivisible but super mind or being awareness unites all the divisions. The integral yoga of Aurobindo is based on this principle. The message is clear, there is no orthodox between self and the body.
Aurobindo stressed the necessity to know society to fully know the individual. He analysed the various aspects of individual by various approaches. He believed that the individual represented the cosmos, being a part of it. He pointed out that there are three powers or virtues in the individual, first is the self, second, the wholeness and third, the divinity. He believed that more these virtues are in individual more is he creditable and functional.<![if !supportFootnotes]>[28]<![endif]>
One of the strong points associated with social reconstruction is the thought on the rural reconstruction of Aurobindo which he considered as National Self-help and National Self-development programme. He was of the opinion that development of society and nation rests on the development of villages. Holding the naturalistic view on the development of villages he says that every village should develop naturally by natural resources. This development will provide a strong base for the village and society. He opposed the externally imposed model for the development of society. This is much relevant in today's changing scenario. In the article, Back to the Land, he wrote:
"It is ascertained principles of national existence that only by keeping possession of the soil can nation persist; the mastery of the reins of government or the control of the trade and wealth of a country does not give permanence to the people in control. They reign for a while and then the virtue departs out of them and they wither or pass away and another takes their place; but they tillers of the soil, ground down, oppressed, rack-rented, miserable, remain, and have always the chance of the day overthrowing their oppressors and coming by their own. When a small foreign oligarchy does the trading and governing and a great indigenous democracy the tilling of the soil, it is safe to prophesy that before many generations have passed the oligarchy of aliens will be no more and the democracy of peasants will still be in possession"<![if !supportFootnotes]>[29]<![endif]>
It is pertinent to bring Swaraj on the real ground to develop district from the village, state from district and nation from the state. This thought of Aurobindo is much similar to that of Gandhi.
Society is the big picture of the individual. Individual either reflects of expresses his self in society Incidents taking place in society is the key to knowing it. For better society, says Aurobindo, development of self and spiritual values is necessary. The spiritually ill individual will only give birth to an ill society. A harmonious or just society can only be created by inheritance of spiritual and sound humanitarian values.
Sri Aurobindo and Indian Psychology
Modern psychology as such has emerged from the tradition of philosophical enquiry in the west. With the foundation of the first laboratory of psychology in Leipzig in 1879 by Wilhelm Wundt (1832-1920) psychology came to acquire a scientific character and based its study on the empirical method. In its earliest stage, it studied relatively superficial aspects of behaviour, such as reaction time, conditioned reflexes, perceptual functions, attention span, localization of functions in the brain, other similar areas of psychology which border on physiology.<![if !supportFootnotes]>[30]<![endif]>
The major breakthrough in psychology came through the work of Austrian psychiatrist, Sigmund Freud (1856-1939). His study led to the discovery of what he termed the unconscious- the part of the mind which has instincts, impulses and other contents that are outside the conscious awareness- the building block of psychoanalysis. With its overemphasis on sex and explanation of human behaviour in terms of sexual impulse, it evoked the strongest reaction. There is an underlying view in psychoanalysis that it regards a human being as essentially an animal. According to psychoanalysis, the human being, like the animal organism, is driven exclusively by the psychobiological energies of the id; the ego and the superego which, from the psychoanalytic viewpoint, constitute the sui generis characteristics of the human being, do not alter the fundamental dynamics attributed to the animal organism, namely, the constant tendency to seek a state of homeostasis or internal equilibrium.<![if !supportFootnotes]>[31]<![endif]> This, in fact, is the extreme reductionism of complex human behaviour. Sri Aurobindo wrote against this reductionist approach:
"Still less can we find the clue [to the psychological complexity of human nature and the way to its transformation] in a scientific psychology with a materialistic basis which assumes that the body and the biological and psychological factors of our nature are not only the starting point but the whole real foundation and regards human mind as only a subtle development from the life and the body. That may be the actual truth of the animal side of human nature and of the human mind in so far as it is limited and conditioned by the physical part of our being. But the whole difference between man and the animal is that the animal mind, as we know it, cannot get for one moment away from its origins, cannot break out from the covering, the close chrysalis which the bodily life has spun around the soul, and become something greater than its present self, a more free, magnificent and noble being; but in man mind reveals itself as a greater energy escaping from the restrictions of the vital and physical formula of being. But even this is not all that man is or can be: he has in him the power to evolve and release a still greater ideal energy which in its turn escapes out of the restrictions of the mental formula of his nature and discloses the supramental form, the ideal power of a spiritual being."<![if !supportFootnotes]>[32]<![endif]>
Expressing the view on nature, methods and scope of psychology Sri Aurobindo wrote:
"Psychology is the science of consciousness and its states and operations in Nature and, if that can be glimpsed or experienced, its states and operations beyond what we know as Nature. It is not enough to observe and know the movements of our surface nature and the superficial nature of other living creatures, just as it is not enough for Science to observe and know as electricity only the movements of lightning in the clouds or for the astronomer to observe and know only those movements and properties of the stars that are visible to the unaided eye. Here as there, a whole world of occult phenomena has to be laid bare and brought under control before the psychologist can hope to be master of his province. Our observable consciousness, that which we call ourselves, is only the little visible part of our being. It is a small field below which are depths and farther depths and widths and ever wider widths which support and supply it but to which it has no visible access. All that is our self, our being; what we see at the top are only our ego and its visible nature."<![if !supportFootnotes]>[33]<![endif]>
Sri Aurobindo's greatest contribution lies in regarding psychology as a science of consciousness and self-knowledge discipline. Through personal experience and exploration, he described all the aspects of consciousness which are embodied in his yoga, a discipline for self-knowledge and self-transformation.
Integral Yoga for Integration of Society
Aurobindo considered yoga an integral part of life. He firmly believed that individual or society will attain the fullest development only when it will experience the supreme power within itself.  He considered yoga not only the integration of mind with body, soul with cosmos but also saw it as a means to end distance and discrimination between individuals. He accepts that he practised yoga without any teacher. His elaborate ideas on yoga have been compiled in three parts which have been published with the name 'Letters on Yoga'. He considered the system of Indian yoga as emancipation from the cycle of birth and death and accepted it as a valuable heritage for humanity. He accepts the divine statement of Krishna in Geeta "बुद्धियुक्तो जहातीह उभे सुकृतदुष्कृते। तस्माद्योगाय युज्यस्व योग: कर्मसु कौशलम्" (He, who is established in evenness of mind in the performance of actions, relinishes good and evil Karmas which have accumulated from time immemorial causing bondage endlessly. Therefore acire this aforesaid evenness of mind (Buddhi Yoga). Yoga is skill in action. That is, this evenness of mind when one is engaged in action, is possible through great skill, i.e., ability.<![if !supportFootnotes]>[34]<![endif]>
Citing the practical aspect of yoga Aurobindo puts that individual or society will attain creative change only when it will attain purity and concentration in their work. It will be possible when the individual will control the instincts of his mind. There is inner power in mind but it can be developed only when yoga is practised in life. Besides rajyoga and hathyoga, Sahaj yoga too can play an important role. Aurobindo lays emphasis on making sahajyoga part of society. He strongly says that if the individual living in society experiences the unity with inorganic and organic beings then this will prove to be the medium of change of life. The effort to unify human did not come to end after Aurobindo. Influenced by his ideas Mirra Alfassa, known to her followers as The Mother and the collaborator of Aurobindo founded Auroville or the city of dawn in 1968. The next section examines this.
Evolutionary Theory of Shri Aurobindo
Aurobindo believed in the evolutionary theory, however, he considered the theory of Darwin incomplete. He proposed a very thoughtful idea that nature or individual act in a purposeful way. Darwinism only describes the function of evolution and represents the system of thought of Darwin. Darwin failed to explain the cause of the cosmology as a whole and the evolution of the structural world. Aurobindo explains 'evolution' with religion and spirituality and stresses that in all organic or inorganic matters of this cosmos Atma of Bhamh is in existence. This existence is responsible for the development of cosmos.<![if !supportFootnotes]>[35]<![endif]> The development of this cosmos has gone through the physical, biological and finally to the social stage. Aurobindo says that vishwatma (Universe soul), following physical and biological stages, consequently efflorescence in the social stage.  Aurobindo saw the scope of social development as a limitless possibility. Human society of the earth imparts the aroma of its culture in the diverse sphere. The survival of fittest and death of weak in the process of struggle is the partial theory of evolution.
Role of Education in Social Reconstruction
Aurobindo considered education as most important for both individual and society. He thought that education can eradicate social ills. Likewise, other idealists and naturalists, he opposed the education system based on modern values. Education which promotes familiarity with letters and memorization of facts only increases weight on the mind. The individual has divine virtue which can be further developed with education. The purposeful education can be acquired by spirituality, creativity and intellectuality. He believed that inner power is inherent in the individual. When this inner power is nourished society will be functional and energetic. For the development of the inner power, an individual should be given education of spirituality and for this ancient education tradition of spirituality must be revived.
Aurobindo emphasised the education of morality. It is the most important of the philosophy of education of Aurobindo. The other aspect associated with laying emphasis by Aurobindo on the education of morality is his will to keep society in the discipline of religion. He says that the present society has cached the spiritual illness and this is giving rise to many problems. There is only one way to get rid of all and that is the education of morality.
Practicalities of Social Reconstruction: Auroville and Sri Aurobindo Society
Auroville
It is believed that Sri Aurobindo spoke of his five dreams when India gained independence. These were:
<![if !supportLists]>1. <![endif]>"... a revolutionary movement which would create a free and united India."
<![if !supportLists]>2. <![endif]>" ... the resurgence and liberation of the peoples of Asia and her return to her great role in the progress of human civilization."
<![if !supportLists]>3. <![endif]>"... a world-union forming the outer basis of a fairer, brighter and nobler life for all ...[people]."
<![if !supportLists]>4. <![endif]>"... the spiritual gift of India to the world."
<![if !supportLists]>5. <![endif]>"... a step in evolution which would raise ...[humans] to a higher and larger consciousness and begin the solution of the problems which have perplexed and vexed [...them] since [...they] first began to think and to dream of individual perfection and a perfect society."
To realize those dreams of Sri Aurobindo, Mirra Alfassa, the Mother founded the Auroville in 1968 which is situated in Viluppuram district of Tamilnadu and also covers some parts of Pondicherry. The Mother in 1954 had spelt out an alternative formula for a new way to live and to be. She described a new society: balanced, just, harmonious and dynamic. At the time she saw that "the earth is not ready to realise such an ideal" and therefore called it 'A Dream'.<![if !supportFootnotes]>[36]<![endif]>  Being a collaborator of Aurobindo the Mother translated his all-embracing thought into reality, a model of human unity and social reconstruction on 28 February 1968. She had the following visions when she wrote the charter of Auroville-
1.         Auroville belongs to nobody in particular. Auroville belongs to humanity as a whole. But, to live in Auroville, one must be a willing servitor of the divine consciousness.
2.         Auroville will be the place of an unending education, of constant progress, and a youth that never ages.
3.         Auroville wants to be the bridge between the past and the future. Taking advantage of all discoveries from without and from within, Auroville will boldly spring towards future realisations.
4.         Auroville will be a site of material and spiritual researches for a living embodiment of actual human unity.
The vision of the Mother as expressed in its charter is compatible with the idea of the religion of humanity of Sri Aurobindo. For Aurobindo, its underlying basis is not any kind of dogma but incorporates three values of liberty, equality and fraternity.<![if !supportFootnotes]>[37]<![endif]>  These values are necessary to bring the world divided on the basis of religion, race and class in order. As Aurobindo writes,
"the liberty that has been so loudly proclaimed as an essential of modern progress is outward and mechanical and unreal liberty. The equality that has been so much sought after and battled for is equally an outward and mechanical and will turn out to be unreal equality. The fraternity is not even claimed to be a practical principle of the ordering of life and what is put forward as its substitute is the outward and mechanical principle of equal association or at best a comradeship of labour."<![if !supportFootnotes]>[38]<![endif]>
The charter issued by the mother is the reflection of liberty, equality and fraternity. The values are often seen contradictory to each other but Aurobindo believed in the integration of these values for the attainment of highest possible human unity. Aurobindo did not explicitly mention any economic or political measures, though he did not reject it. But Auroville goes beyond and runs a number of activities for the integration of society.
Some academicians have criticized Auroville on a number of fronts. However, the major attack comes in its description as an unrealizable dream or utopia. But is it appropriate to blame the idea of a unified society of Aurobindo as envisaged in Auroville for this? The idea and its translation depend on the understanding and commitment of those entrusted with managing as well as the active cooperation of citizen at large. It depends on continuous effort and willingness of the people to attain world peace and universal harmony. We must bear in mind that with respect to India as a geographical unit the experiment at Auroville is still on a small scale and unless we translate it on a larger scale it is not appropriate to discard it.
The idea of Aurobindo is a source of inspiration for society and it needs to be embraced as long as we want unity, peace and harmony in society. We can consider Auroville as the outcome of ideas of Aurobindo.
Sri Aurobindo Society
Sri Aurobindo Society started by the Mother in 1960 as a small organization has grown today to work in a diverse area as integral education, rural development, sustainable development, leadership and management, integral health, palliative care, Indian culture, arts and communication. In the field of rural development, it has started 'Sri Aurobindo Rural & Village Action & Movement (SARVAM)' initiative which is a progressive village community model that is sustainable, replicable and scalable.
Besides, integrating all aspects of life such as physical and economic development which uses local material and technology; empowerment of women and harmonious relationships within the family; cultural and aesthetic development; a new approach to housing, technology, water and waste management, renewable energy, sanitation and hygiene, suited to local conditions, and a new model of local governance, this rural development programme aims to:
help the entire village become a model village

inspire the village community to take charge of their own destiny and future

make a genuine difference to their way of living, thinking and being

research new and creative ideas to develop a sustainable, scalable and replicable model

create an International Centre for Rural Development and Training based on a holistic approach, which will reach out to other villages, NGOs and government agencies
Societies willing for a model may adopt Auroville and Sri Aurobindo Society. However, it may be pointed out that any model should not be exhaustive and permit flexibility enough to reflect needs and aspirations of society yet keeping intact the basic idea of human unity and social reconstruction of Aurobindo.
Conclusion
The analysis of the work of Aurobindo leads us to the identification of his two major roles in society. The first is his contribution as a freedom fighter to resist the colonial forces and the second, as a philosopher in pursuit of practical ways to unify humanity that is divided on race and divergent ideologies. He undertook extensive research into the ancient scriptures of India and came out with his own philosophy of integration. Aware of the dangers of the organizational approach to control social life he believed in the oneness of self and the body, self-realisation and social participation. The basic principle underlying his philosophy is the response to the problems of human society.
Mirra Alfassa one of his collaborators realized his philosophy on the practical ground with her effort to found Auroville, the city of dawn. Today society is experiencing the same divisive forces that Aurobindo perceived. Despite the proliferation in the number of organizations to promote peace and non-violence, society is undergoing more and more unrest. The model of Auroville as a society envisaged by Aurobindo need to be adopted for the sustenance of humanity and social reconstruction.
Auroville does not state to be a utopia. It explains itself as "an all-reaching township in the construction," and endeavours to turn design for humankind.<![if !supportFootnotes]>[39]<![endif]> Given that it has garnered an international endorsement from its beginning, and retain to draw the attention of governmental and non- governmental institutions, and the regard of eminent individuals and daily visitors, such efforts are worth consideration. The basic point is whether it is indeed applicable to society at large, and if so whether its commitment is translatable into other, larger, social contexts. As previously mentioned, noteworthy contributions of past intentional communities have been rudimental in character, unless we translate it on a larger scale it is not appropriate to discard it. Considering Auroville the outcome of ideas of Aurobindo and The mother it needs to experiment at a large scale.
References
A Dream: Envisioning an Ideal Society. (n.d.). Retrieved from https://www.auroville.org/contents/197172.192.168.2:8090/httpclient.html
Auroville Today. "The Challenges of Planning the City." Auroville Today, no. 297 (2014).
Auroville: The city the earth needs. Directed by Olivier Barot and Christine Devin. Auroville: Auroville Visitor's Centre, 2014. DVD.
Awareness Through the Body. "Awareness Through the Body." Accessed April 10, 2015. https://awarenessthroughthebody.wordpress.com.
Bouvard, Marguerite. The Intentional Community Movement. London: Kennikat Press, 1975.
Chaudhuri, H. (1972). The philosophy and yoga of Sri Aurobindo. Philosophy east and west, 22(1), 5-14.
Dalal, A. (1989). SRI AUROBINDO AND MODERN PSYCHOLOGY. Journal of South Asian Literature, 24(1), 154-167. Retrieved from http://www.jstor.org/stable/40873988
David, C. "How to govern Utopia." Auroville Today, no. 301 (2003): n. pag. http://archive.auroville.org/journals&media/avtoday/archive/2000- 2003/sept_2003/utopia.html.
Fogerty, Robert. All Things New. Chicago: University of Chicago Press, 1990.
Gerth, H. H. and C. Wright Mills, eds. and trans. From Max Weber: Essays in Sociology. New York: Oxford University Press, 1946.
Guigan, Gilles. "Who took the Initiative of Building Auroville." Accessed February 28, 2015. http://archive.auroville.org/vision/Who_took_the_initiative_of_building_ Auroville.pdf.
Heehs, P. (2008). The Lives of Sri Aurobindo. Columbia University Press.
Korom, F. J. (1989). THE EVOLUTIONARY THOUGHT OF AUROBINDO GHOSE AND TEILHARD DE CHARDIN. Journal of South Asian Literature, 24(1), 124-140.
Mahapatra, D. A. (2007). Political Philosophy of Hegel and Sri Aurobindo: A Comparison. The Indian Journal of Political Science, 483-496.
Mahapatra, D. A., & Mahapatra, D. A. (2004). FROM NATION-STATE TO IDEAL HUMAN UNITY: AN ANALYTICAL DISCOURSE IN SRI AUROBINDO'S POLITICAL PHILOSOPHY. The Indian Journal of Political Science, 145-160.
Minor, R. N. (1999). The religious, the spiritual, and the Secular: Auroville and secular India. SUNY Press.
Schehr, Robert. Dynamic Utopia. Westport: Bergin & Garvey, 1997.
Shinn, L. D. (1984). Auroville: Visionary Images and Social Consequences in a South Indian Utopian Community. Religious Studies, 20(2), 239-253.
Sri Aurobindo, Essays on the Gita
Sri Aurobindo, On the Veda (Pondicherry: Sri Aurobindo Ashram, 1964), p. 260.
Sri Aurobindo, the Human Cycle
Sri Aurobindo. Birth Centenary Library. Pondicherry: Sri Aurobindo Ashram Trust, 1971.
Thakur, B. N. (2004). Poetic Plays of Sri Aurobindo. Northern Book Centre.
Trivedi, R. (1968). Sri Aurobindo's Conception of Philosophy. East and West, 18(1/2), 178-189.
WOMEN'S WELFARE AND DEVELOPMENT: CHALLENGES AND INDIGENOUS PRACTICES
Pamela Singla
 Professor, Department of Social Work, University of Delhi pamelasingla@gmail.com
1974 is a landmark year in the history of women's movement in India. "Towards Equality—Report on the Committee for Status of Women in India (CSWI)" was released in this year which gave a comprehensive view of the status of women in independent India. The report revealed startling facts which showed that even after 25 years of the country's Independence, women continued to be without any rights despite the many legislative enactments in their favour—they suffered in terms of education, health, political decision making, and careers. Seven decades later we in India still are engaged in improving the status of women in the aforesaid areas. It is not that the Indian government is not gender sensitive, in fact we have one of the most gender sensitive Constitutions framed way back in 1949.
We have gender sensitive laws, ratified CEDAW (1993), schemes, programmes and a National policy on women's empowerment. Despite this the national sex ratio continues to be adversely biased against women. Some of the other kinds of concerns faced by the Indian women are- Sexual harassment public spaces and private domains, women's safety issues in public spaces, rape and stalking, dowry demands, lopsided indicators of human development including education, health, work, political participation, concerned gender relations including addressing women as witches.
This paper is divided into two parts. Part I describes the status of women in Vedic times. Part II describes the constitutional and other kinds of provisions towards gender equality and Part III shares some of the good practices of various states of the country working towards improving the social and economic condition of women.
Part I: Vedic period 
This section has been well dealt with in the paper by Bhattacharya Sukumari (1992) and thus finds reference a few times in this section and also appears as quotes. In the early parts of Rigveda women seemed to enjoy freedom as was expected from pastrol or nomadic people. 'The wife's functions in the home are nowhere stated clearly in early literature except that she fetched water and watched over the fields. The Satapatha Brahmana says that she carded wool, possibly knitted it, but evidently she must have done much more at home of which there is hardly any record' (Bhattacharya, 1992). Rig Veda makes a mention about women fighting in the battle field, such as of 'Mudgalini winning a battle, Vishpala who lost her leg and Vadhrimati who lost her hand in battle. Vadhrimati and Sasiyasi are also mentioned for their heroism in the battlefield'. These instances presuppose some measure of freedom and equality enjoyed by women in the early Vedic period. Besides this at the daily offering of water to the gods and fathers one hears the names of Gargi Vacaknavi, Vadava Atreyi and Sulabha Maitreyi, the three women to whom also water was to be offered. Interestingly when a Vedic student completed his studies, a rite was performed to honour the students which also included honoring the teacher/ saints wife by reserving a seat for her in the ceremony.  But we have no record of women as sisters, daughters, unmarried girls and widows; they are totally ignored in the Vedic and even post Vedic literature the reason for which is not known. As per Bhattacharya a very late text also mentions women in their early age were tied the sacred thread. It appears that the women were divided into two categories, namely those who got married and those who did not get married and studied the texts. The point is that during the early vedic period women enjoyed freedom. 'What appears to be a more plausible theory is that for the first few decades of Aryan settlement women had not lost their right to studying the sacred law but after the Aryans began taking non-Aryan wives, society withdrew women's right to initiation and to studying the sacred texts'. As a rule, therefore, women were deprived from education but there certainly were exceptions. There are records of compassionate fathers teaching daughters widowed early in life or even maidens until their marriage or large hearted husbands and brothers teaching their sisters and daughters at home. Vishwawara Ghosa, Godha, Apala, etc.—these are some of the women who were exceptions to the rule and we find occasional references to them. The Rig Veda mentions several rishikas, women saints'. The author wonders as to when the right to education was withdrawn from women and why would women loose interest in education. But it is seen that slowly there were restrictions to women studying the scriptures and getting relegated to domestic chores. Married women had responsibility to the husband, children and his entire family. They were expected to be within the chambers of their house to keep their energy intact. Her major responsibility was to bring forth male children and those incapable of doing so could be discarded. The texts also speak of other conditions including those for men. So somewhere the wives were regarded as mindless objects whose duty was to please the husbands. Chastity was not expected from a man. It was a special requirement from women alone
.
Part II: Constitutional Provisions, Legal Enactments and Women's Rights
We have come a very long way since then. India got independence in 1947 and in 1949 the Indian Constitution was formed which is one of the very well drafted piece of work. Gender equality was given due importance in the document. However, gender imbalance still prevails in the country which is also reflected in the Gender Gap Index (GPI) released by the World Economic Forum (WEF). As per the 2017 data released by the WEF, out of the 144 countries evaluated by the WEF India ranks to 108th position. The parameters of the survey include proportion of the resources and opportunities made available to women on educational, economic, political and health parities. India also has the unique distinction of having some states which have the sex ratio lower than the national figures. These states snuff out lives out of young girl child as they look upon women as economic liability (Whitton). Gender equality is included in our constitution and further amendments have also taken place for the same for ensuring rights of women.
Constitutional Rights: The Indian Constitution has given various kinds of rights to its citizens known as the Fundamental Rights. These are equally granted to men and women and can be enumerated as below:
<![if !supportLists]>· <![endif]>Right to Equality: A 14& 15 of the Constitution specify that there should be no discrimination against any person on the basis of sex (religion, caste, creed, race, birth place). A 16 says that here should be no discrimination in matters of public employment on grounds of sex.
<![if !supportLists]>· <![endif]>Right to Freedom: Freedom of speech and expression.
<![if !supportLists]>· <![endif]>Right against Exploitation: exploitation refers to forced labour.
<![if !supportLists]>· <![endif]>Right to Freedom of Religion: This means professing and practicing a religion freely.
<![if !supportLists]>· <![endif]>Right to Property: Acquiring, holding and selling property.
<![if !supportLists]>· <![endif]>Cultural and Educational Rights: This means freedom to get admission to educational institutions and freedom to conserve ones culture.
<![if !supportLists]>· <![endif]>Right to Constitutional Remedies: This means right to approach the courts for enforcement of constitutional rights.
Legal Provisions: The Indian State has plethora of laws in support of its women drafted as early as 1960s and amended subsequently. To name some we have the--Maternity Benefit Act 1961, Dowry Prohibition Act, 1961 and subsequent amendments which make dowry an offence, The Equal Remuneration Act, 1976; The Medical Termination of Pregnancy Act 1971; The Immoral Drug Traffic Prevention Act 1986; The Family Courts Act 1984; The Indecent Representation of Women's Act 1986 & 1988;The Sati Prevention Act 1987. 73rd and 74th Constitutional Amendments which reserve one third seats for women in Panchayats and Muncipal Corporations. The Prevention of Domestic Violence Against Women Act, 20005'; Ratification of CEDAW; National Policy on Empowerment of Women, 2001, Family Courts; Family Counseling Centers; Crime Against Women Cells are some of the initiatives of the Government to combat violence against women. This is indicative that protection from any form of violence is treated as woman's right by the Indian State. 
Economic Rights: The Equal Remuneration Act, 1976 does not permit wage discrimination between male and female workers. Maternity benefit Act, 1961 provides for social security for women employees. India has ratified many of the Conventions of the ILO related to work. Shram Shakti Report brought out in 1988 well brings to light the plight of the women in the unorganized sector.
Political Rights: The Indian State made the 73rd and 74th Amendment to the Constitution thus reserving 33% seats for women at level of village local body and municipal corporation. The Indian women had gained their voting rights as early as 1935 and today every Indian who is 18 years and above can vote. The Indian state still awaits for reservation for women at the level of Parliament.
Part III: Good Practices 
This section discusses some good practices introduced in the country at various points of time for addressing various concerns of women. These include initiatives by both government and non government organizations.
<![if !supportLists]>i. <![endif]>73rd Amendment to the Constitution, 1992
Panchayats as people's bodies have been in existence since long. Women however were never an integral part of the system. In the 1980s some states introduced reservation of seats for them but in majority of the states very small number, generally two, women were co-opted in the Gram Panchayats and other bodies of Panchayati Raj Institutions. The 73rd Amendment to the Constitution, 1992, an institutional change, secured 33% reservation of seats for rural women in the Panchayati Raj Institutions. It brought 33-40% (8-10 lakh) women at the level of decision making from the miniscule 2-4% earlier. Despite presence of 'sarpanch pati', periodical backlashes on women sarpanches and some other weaknesses in the system the political reservation has brought ten lakh women in the forefront. Besides the large number there are reported cases of gain for the rural women through this affirmative action. 
<![if !supportLists]>ii.<![endif]>Women's Safety in Public Spaces
The need for safe public and private spaces for women has been recognised. While attempts have been made for safe homes for women through the related legislations for protection of women, women's public safety in states like Delhi which has been much in news and of concern has been addressed by the authorities by forming expert groups and Task Forces for adequate addressal. Special efforts have been made in this regard by the Police departments in Delhi and other states. For instance:
<![if !supportLists]>· <![endif]>To combat violence against women on streets of Delhi a special bike patrolling initiative has been undertaken by police of Delhi wherein women police constables would patrol on mobikes to instill sense of safety among women and which would also be a check on anti social elements.
<![if !supportLists]>· <![endif]>Delhi Police also has introduced the mobile App 'Himmat' for women's safety in the city which has brought all helpline numbers under one platform.  
<![if !supportLists]>· <![endif]>
<![if !supportLists]>iii. <![endif]>Parivartan Programme, Delhi Police:
The Parivartan Action Plan introduced by Delhi Police in 2009 to combat violence against women includes:
<![if !supportLists]>Ø <![endif]>Deployment of the WBCs in the sensitive beats for redressal of grievances by being present in the Beats and in the community.
<![if !supportLists]>Ø <![endif]>Organizing awareness activities to sensitize people such as through Pantomime shows and door to door visits by WBCs.
<![if !supportLists]>Ø <![endif]>Formation of Women Safety Committees (WSC) for wider dissemination of the Parivartan Campaign and to enable these committees to play a vital role for addressing the numerous interrelated factors, which give rise to violence against women and children.
<![if !supportLists]>Ø <![endif]>Organizing Self Defense training programmes particularly in government schools to empower girls to tackle the untoward situations themselves.
<![if !supportLists]>Ø <![endif]>Motivating girls and women to report the cases of sexual assault through lectures and demonstrations by experts.
<![if !supportLists]>Ø <![endif]>Orientation and training of police staff on gender issues.
The Parivartan programme is about changing attitudes of a range of stakeholders and attitudinal change requires sustained intervention.
<![if !supportLists]>iv. <![endif]>Self Employed Women's Association, Ahmedabad, Gujarat (SEWA) 
SEWA, which started as the women's wing of the TLA in 1971, is the internationally known success story of Ela Bhatt's efforts at organizing the poor women. Starting as the TLA's women wing with the primary objective of imparting training and skills to the poor women, the wing realized that the nature of problems of these women could not be eased by these activities and that they had to be tackled in a comprehensive manner. The women's wing thus decided to convert itself into a union which it finally did after much fight. Later it dissociated itself from TLA.
The union realized that the women needed to be organized so that they could fight for their rights. It brought together bidi rolling workers, garment and textile workers, petty vendors, agricultural and landless labourers, scrap gatherers, loading crews, cart pullers to name a few and formed them into co-operatives.  Today SEWA sponsors 71 cooperatives. SEWA assists each co-operative to develop finan­cial and managerial self-sufficiency. SEWA co-operative bank provides with the working capital. Each co-operative has a unique history of struggle and development. Organizing is the core of all the activities, essential part of struggle and development. This is because SEWA has seen injustice at various levels which can only be fought in an organized manner. SEWA is not only known as an institution but a movement in itself.
<![if !supportLists]>v.<![endif]>Kutch Mahila Vikas Sangthana, Gujarat [KMVS]
KMVS is a women's organization, jointly sponsored by Janvikas, Ahmedabad - a voluntary organization and Gujarat Women's Development Corporation. The Sangthana is working intensively with women in the northern region of drought prone Kutch in Gujarat for the last three years. It has organized 2,400 women and 50 Mahila Mandals in five talukas. Women are being mobilized over issues of economic rights, control and management of natural resources. It has mobilized women at two levels - as pressure groups to create an impact on government and its policies and at grassroots to self manage various activities relating to health, literacy, production and issue based marketing of their products. It has also been lobbying for artisans' demand for policy measures and legislation. Groups of women artisans have been participating in issue based exhibitions.
<![if !supportLists]>vi. <![endif]>Holy Cross Social Service Centre, Hazaribag, Jharkand [HCSSC] :
<![if !supportLists]>vii. <![endif]>HCSSC is a break through into the culture of silence. It is an innovative experiment in women's thrift and credit which has organized the local women around the concept of Self Help Groups.  For the last 25 years the Centre has been involved in the development of the poor and the marginalized people, with spe­cial emphasis on women. It has brought them out of their houses to enable them to join the mainstream of development. The forma­tion of the self help groups has become its main thrust through which activities such as agriculture, irrigation, income genera­tion programmes, legal aid, health, etc. are channelized towards the local women. The money lenders, as identified by the Centre, were the main speed breakers of development in that area as all the efforts and hard work of the poor was drained away in the form of high interest rate(70-150 % per annum). Thus HCSSC initiated and facilitated Self Help Thrift and Credit Groups especially for women. After much hard work of operating in the heavy monsoons and finding their way through the muddy waters or being held up in the forest which had become recurring phenomenon for them in those days, today HCSSC can boast of spreading its wings in more than 250 villages of 5 blocks in Hazaribag district. It is working with women and male members through self help groups to achieve the goal of empowerment.
Conclusion:
It can thus be concluded that for development of any country to happen it has to be engendered. One way to effectively involve women in the country's development is to address their specific needs through customized programmes and schemes. In India the issues and concerns of women are many which the government and other stakeholders are trying to address some of which have been dealt with in this paper. Mahbub ul Haq says that development if not engendered is endangered, and hence it is vital that local situations are studied to develop local practices for effective addressal of the concerns faced by the marginalized group, including women
References:
<![if !supportLists]>1. <![endif]>Bhattacharya Sukumari.  1992.  'The Position of Women in Vedic Society', India International Centre Quarterly, Vol. 19, No. 4 (WINTER 1992), pp. 40-52, Published by: India International Centre.
<![if !supportLists]>2. <![endif]>Singla Pamela 2010. 'Women's Rights and Gender-based Violence in India—Issues and Challenges', invited article for The Journal of National Women's Education Center of Japan, Vol.14, March.
<![if !supportLists]>3. <![endif]>Whitton, Chaplotte (year not traceable) Mind the Gap: Status of Indian Women is among the World's Worst, Newspaper clipping.
<![if !supportLists]>4. <![endif]>Annual Reports of Parivartan
<![if !supportLists]>5. <![endif]>https://www.hindustantimes.com/delhi-news/delhi-police-kicks-off-bike-patrolling-initiative-for-women-s-safety/story-zlc2TAEo4FKpr7HndUgy9N.html, downloaded on 11.12.2018.